Local news, public service announcements, and excerpts from regular programs play from 5 to 6:30 PM weekdays. PSA and story shorts appear between regularly scheduled programs.
We only support video announcements on TV (eff. 7.1.2018) There are more effective ways to share event notices within our community than a TV bulletin board.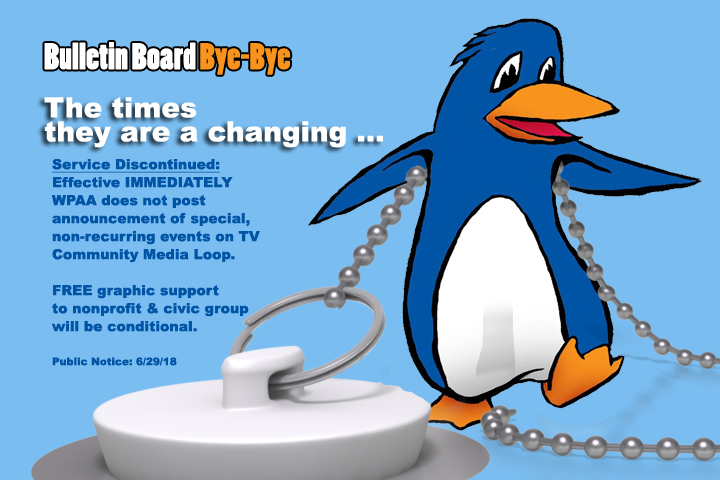 Organizations with a regular schedule of events can sign up with Burbio.com and get added to the 06492 zip code. They will take a feed from either your FaceBook Events or a website calendar. This resource will send emails to people who sign-up and follow you.
Criteria for Graphic Support for Social Media
We must have volunteer resources available at time of request. This varies. No guarantee. The earlier the notice the increased likelihood we can help.
Must be a civic group or small nonprofit organization without public relations staff.
Must be responsible for sharing and promoting the graphic made on social media. We will share with our followers but will not promote to other groups or forum as we can not be responsible for the communications the post may encourage.
Graphics will include a "Produced as a service of WPAA-TV."
PSA for TV: Some Examples made by Team Hercules Members
We support the development of Public Service videos such as these through Mission Continues or as a host for On-The-Job Training Programs.
ASRC Navigating the Spectrum Autism Services & Resources CT (2019)

In support of our collaborating Theater Companies

Bikers' Against Animal Cruelty: About Us

Here is a PSA produced by youth in the 2015 Summer Employment Initiative. Voice-Over coaching provided by radio announcer the late Don Meno

This one was created by a College Intern lead Summer Youth Project. The youth called themselves WallyWorldProductions.

This powerful PSA was created as an independent project by 2014 Summer Youth Employment Team Member Donte Stewart

and organizational stories like this one created through the Wallingford Public Schools Capstone Project 2014

and personal stories like this one done by Summer Youth Employment Team 2015