Community members oversee and manage the resources of WPAA-TV. Join Us.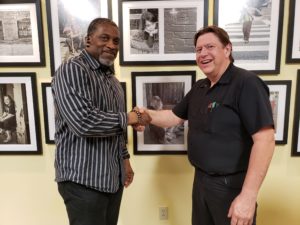 Herb Jackson – (2020) President
Curt Huizenga – (2022) Vice President
Cassie Allen (2021) – Secretary/Treasurer

Helen Hoelck

 (2020)
Jared Marmitt (2021)
Riyad Lahnin (2021)

Linda Marie Colon

(2020)

Open

(2022)

Open

(2022)
Technical Advisors
Rich Mavrogeanes – DiscoverVideo File Streaming, Conversion and more
Cliff Huizenga – Cliffpro Web and Digital Awesomeness
Aaron Stone – Stonehenge Sound Supporting Audience Welcome Events
Tom Oh – Film Support Audio Tech
Josiah Houston – Artistic Director – Playwright/Poet/Musician/Educator
Russ Martin – Film & Story Advisor – Enormity Pictures LLC
Open – Moses Y Beach Project Lead
Staff 
Susan Adele Huizenga: Executive Director (Full-time Volunteer)


Part-time Citizen Production Support Staff
ROAR1st Digital Media Assistants:  Neal-Jay Ancheta (2016), Branndon Greatorex (2016), Kairav Manair (2016-17), Jason Sabetta (2017), Julia Hilinski (2017 eligible), Ashley H (2018)
MORE THAN TV: We have been a host location for work-skills training
College Credit Internships: Middlesex Community College, Quinnipiac University, Albertus Magnus, University of New Haven, SCSU, Film & Television Sacred Hearty University Graduate Program
Wallingford Public Schools Community Service
Workforce Alliance Youth Teams: Summer 2015, 2016, 2018
Abilities programs including PCQworks and ClearWeave Careers
Internships: Designed to meet your personal development goals. Together we serve the community. Meet with us. Develop a plan. If an in a for-credit program, we can work out the rest with your school or work program agency.
SP 2020 Michael Humowitz Middlesex Community College

Film & TV

SP 2020 Garrett Alexander Amill Quinnipiac College

Communications

SP 2020 Evann Michael D'Adamo Quinnipiac College

Communications

2020 John Dokurno Clear Weave Jobs

Audio & Video Skills

Fall 2019 John Anthony McMahon Quinnipiac College

Communications

Summer 2019 Aaron (AJ) Vertucci Middlesex Community College

Digital Media

Summer 2019 Sona Benham University of New Haven

Audio

2018 Anthony Vitale Marist College Communication & Media 

Video Production & Directing

2018/19 Noah Levesque Dean College

Intro to editing

2018 Ashley H Southeastern Employment Services

Digital Media

2018 Hallie Tarnawa Greater Hartford Academy of the Arts

Lighting & Set Design

2017 Ian Howard Middlesex Community College

Film & Directing

2017 Nathan Dean Clear Weave Jobs

Business Skills

2016 -17 Deanna Pedone Sacred Heart Film & Television

Video Production & Directing

2016 Alan Astromowicz PQCWorks

Audio Tech

2016 Elizabeth Tranzillo PQCWorks

Graphics & Marketing

2016 Victoria Penczynzyn Middlesex Community College

Graphics

2015 Leah Meyers University of New Haven

Directing

2014 Colin Babcock Quinnipiac Undergrad

Studio Production, Anchor

2014 Cory Schide Marist College Communication

Video Editor

2014 Joey Allard Middlesex Community College

Video Production

Served as WPAA-TV President 2017-18
2013 Scott Sheahen Quinnipiac Graduate

News & Reporting