Challenge Winners 3-Minute Movie
---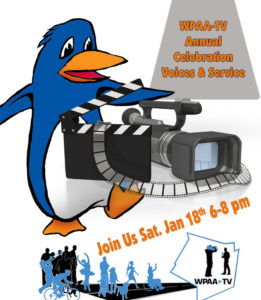 Our Annual Celebration of Voices & Service event is January 18th, 2020 from 6-8 PM. Dinner and awards and some video watching.
The Shiny New Year video short by Emma Richardson is being loved by all who see it. Watch it here. Emma will be in Mumbai the evening of the celebration doing what she loves, camera in hand.
Video best representing the spirit of the challenge 2018 is Why #06492Rocks Congratulations Emma Higgens 
Congratulations Producer Aaron Sandler of Ugly Chicken Wings Media Group & Lightning Strikes Twice. The movie featured Jared Sparky Marmitt, the line 'Missed it by that much.' and Wallingford's new train station signs. The winning movie was screened at FAP4Short-Shorts in Bridgeport on May 31st 2018.
The 2017 winning movie The Sparrow Falling was screened at the Holiday Cinemas in October 2017.
View 3-Minute Movies
Are you interested in watching the 3-minute movies about Wallingford people, places and things! Here is a link to the YouTube Playlist.
Check out the 2018 clip with members of the community commenting on our first-ever annual video report. "What We Do Together."