Resilient | Relevant | Ready4U
What We Do Together | Award-winning!

We are citizens teaching other citizens what we know about the media. Our depth of knowledge and capabilities depends on volunteers. Join Us.
Voted "Best in the Nation" for our size in the Alliance for Community Media Hometown Festival: 2019, 2021 and 2022. We have an occasional Newsletter. See what we share with friends here
Wallingford Public Access Association,Inc. (WPAA-TV) is the designated Cable Access Provider (CAP) in Wallingford CT operating the Community Access TV station with primary responsibilities for Public Access TV. WPAA-TV is a (501-3(c). Our cable channels are Comcast 18/1070 in Wallingford, and 6091, viewable on Frontier from anywhere in Connecticut. Our content is simulcast world-wide on the internet from our website wpaa.tv.
Our Mission is to empower the people of Wallingford to meet their communication needs, as they define them, by facilitating digital media creation and managing its public distribution. Use of WPAA-TV digital media tools and studioW stage can help inform, connect and build community through the production of ideas, opinions, stories, news, information and/or performance.
WPAA rebranded as WPAA-TV and Community Media Center in 2016 to better represent the use of our space and other resources.
Here is the legalese:
The General Statutes of Connecticut (Conn. Gen. Stat.) §16-331a provides for "meaningful community access" as a component of multichannel video programming distributors' (MVPD) service. Community access is defined as non-commercial programming produced or sponsored by members of the community and made available in a MVPD's (COMCAST and FRONTIER) service area as part of the operator's basic service tier. Community access encompasses Public, Educational and Governmental (PEG) access programming. MVPDs are required to provide technical and managerial support pursuant to the Regulations of Connecticut State Agencies (Conn. Agencies Regs.) §16‑331a-11 and financial support in accordance with Conn. Gen. Stat. §16-331a(k).
Public Access Plus – Peculiar to Wallingford
Our primary purpose is to enable hyper local distribution of citizen created and represented media as Public Access TV. Unlike other CT Public Access TV stations, WPAA is responsible for the distribution of Government and Educational Access TV not provided by other town access TV stations. As a result, our viewers see news updates from Connecticut's members of Congress, United Nations stories, and content produced by federal or state governments. Life-long learning content is on our schedule six days a week.
Wallingford has two other channels. WGTV, administered by the town. Select government meeting are shown here. WPS-TV administer by the Board of Education.
More Than TV
Our initiatives go beyond the provision of tools & stage for citizen media production in Wallingford. #YourTownYourStationYourVoice #wpaatv #MoreThanTV #BeTheMedia #AnyoneCanBeFreeman #TeamHercules. As a media center, we host media learning initiatives, civic engagement and public art programs. Find out more in the links in More Than TV.
Funding By Cable TV Subscribers & 'We The People'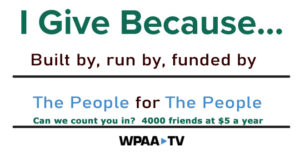 WPAA-TV is funded, in large part, with cable company payments for air rights of way. Federal and State legislation determine the obligations. Companies pass this use cost to customers as fees. It is not a tax nor is to mandated pass cost to customer. It is just capitalism. Wallingford customers subsidize the communities of No. Haven, No. Branford, Madison and Guilford.*
More.Than.TV | other revenue underwrites services which are not TV: video streaming, building maintenance, festival submissions, theater and film initiatives, public art, civic and information literacy, partner projects and a significant portion of our administrative overhead. Direct contributions to #MoreThanTV can be made via our Pay Pal or during the 'TheGreatGive' an annual community fundraising day in May
Each year volunteers provide in-kind services approximating our annual Cable fees: $80,000. The documents that provide transparency on our funding and operations can be found here.
As a giveGreater.org participant there is full public transparency on financials, policies and regulatory compliance.
* The portion of fees leaving Wallingford was to be sunset in 2012. Former Senator Len Fasano and Rep. Vincent Candelora aggressively fought against Wallingford volunteer's who sought a more cost-effective alternatives to town-specific operations. Full docket here. In 2010 WPAA-TV unsuccessfully pursued in with PURA Docket 10-03-02
BeTheMedia