We are citizens teaching other citizens what we know about the media.
OUR CHALLENGE
Our depth of knowledge and capabilities are dependent on those willing to volunteer. Join Us.


What we do is about you: Learn Produce. Volunteer 
Our Station is Award Winning For What We Do Together.
Catch up with our newsletter here
Our Official Status.
Wallingford Public Access Association, Inc. (WPAA), as designated by the State of Connecticut utility regulators, is the Community Access Provider (CAP) for the town of Wallingford. WPAA is a (501-3(c)) CT nonprofit organization incorporated as a Public Charity. Our primary business is support for the creation and sharing of video content as hyper-local television. Hyper-local refers to Wallingford CT.
Here is the legalese:
The General Statutes of Connecticut (Conn. Gen. Stat.) §16-331a provides for "meaningful community access" as a component of multichannel video programming distributors' (MVPD) service.  Community access is defined as non-commercial programming produced or sponsored by members of the community and made available in a MVPD's (COMCAST and FRONTIER) service area as part of the operator's basic service tier.  Community access encompasses Public, Educational and Governmental (PEG) access programming.  MVPDs are required to provide technical and managerial support pursuant to the Regulations of Connecticut State Agencies (Conn. Agencies Regs.) §16‑331a-11 and financial support in accordance with Conn. Gen. Stat. §16-331a(k).
Public Access Plus – Peculiar to Wallingford
Our primary mission is Public Access TV. Support of citizen media involves outreach, training & media distribution. Unlike other Public Access TV stations, WPAA is responsible for the distribution of Government and Educational Access Television not provided by other town access TV stations. As a result, viewers of WPAA will see news updates from Connecticut's members of Congress, United Nations Stories, and content produced by federal or state governments on WPAA rather than WGTV. Life-long learning content is on our schedule as it is not supported by WPS-TV at this time.
Funding By 'We The People' & Cable TV Subscribers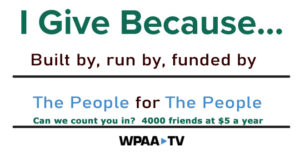 WPAA-TV is funded, in large part, by subscriber fees in accordance with federal cable act. These fees (less than $10 a year) are part of your cable TV bill. Cable & video providers currently serving Wallingford are Comcast and Frontier.
Other income sources underwrite services that are not TV. We call this More.Than.TV. This includes most administrative services, video streaming, building maintenance, festival submissions, theater and film initiatives, social media, and partner projects. Direct contributions can be made via our Pay Pal or annually during the May 'GreatGive' Greater New Haven community fundraiser.
Annually, volunteers provide in-kind services approximating annual Cable fees: $90,000. The documents that provide transparency on our funding and operations can be found here.
As a giveGreater.org participant there is full public transparency on financials, policies and regulatory compliance.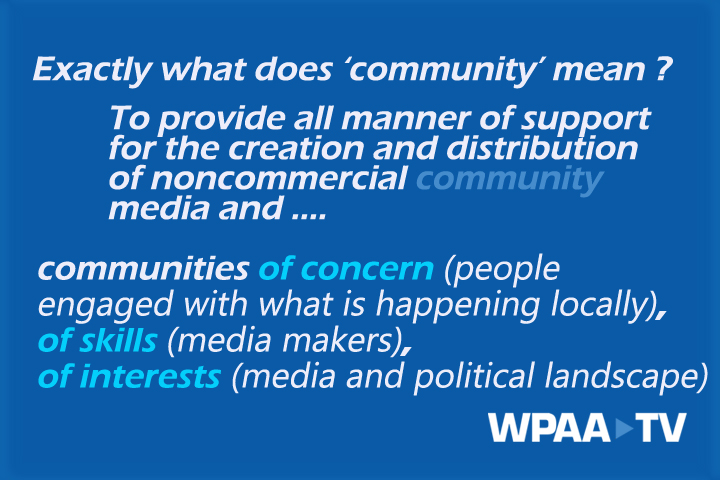 More Than TV
Our initiatives go beyond the provision of tools & stage for citizen media production in Wallingford. #YourTownYourStationYourVoice #wpaatv #MoreThanTV #BeTheMedia #AnyoneCanBeFreeman #TeamHercules. For
As a media center we host media learning initiatives, civic engagement and public art programs.  Find out more in the links in  More Than TV.
WPAA rebranded as WPAA-TV and Community Media Center in 2016 to better represent the use of the resources.