ALL DAY – every day – ONLINE
WATCH TV online NOW: For the Internet simulcast Click HERE.
To find today's shows and showtimes  Click HERE.
HOW YOU WATCH TV DEPENDS ON HOW YOU GET YOUR TV
COMCAST  Xfinity Channel 18/1070​  In Wallingford CT $
FRONTIER  Advantage Channel 6091 In Connecticut $
DISHTV       WPAA-TV is not available on Satellite TV.
ROKU         To add our channel to ROKU, use this link.    Then start the DiscoverVideo channel, select "Public, Education, Government TV (PEG)", then select WPAA. This channel is underwritten by DiscoverVideo as a Community Service.
Looking for a show that has already played on TV? YouTube is the place to watch shows made in StudioW at WPAA by local Producers. Our scheduling plan is shown below.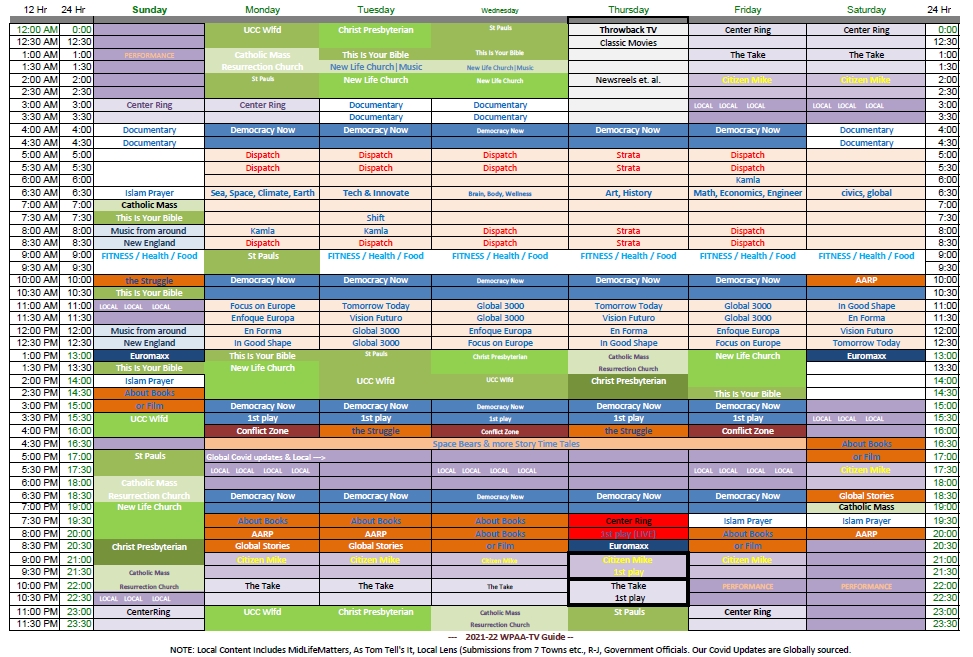 Thanks for watching and supporting shows made by, or shared for, the people of Wallingford, CT
$ Cable TV subscribers 2021 annual fee is $8.74 80% goes to WPAA-TV for operations.
The deal:  Federal law requires Cable companies to compensate local communities for cable poll/air rights. In every town in CT, this is accomplished by underwriting Community TV channels. However, cable companies decided to identify this obligation as a fee (as if it was a tax rather than a payment for rights of way) and pass it on to customers. 
In Wallingford it gets more interesting: A portion of Wallingford's 'fees' are paid to community TV operators in No. Branford/Madison/Guilford/No. Haven. It was supposed to be temporary. In 2010 WPAA-TV  unsuccessfully pursued in with PURA Docket 10-03-02  Senator Len Fasano and Rep Vincent Candelora aggressively fought against Wallingford volunteer's request for consideration of more cost-effective alternatives to town-specific operations. Full docket here.