Community Media Day – Oct 20th Every Year
#wpaatv celebrates every third Saturday in October.        All ages. Free.
Saturday, October 19th,
2019

Noon to 7 PM

Hosts: Jennifer Lynn Passaretti & Liberty Gléz "  Throughout the day LIVE" TV with Chat here & Internet Stream with fewer interruptions  here

Ongoing  | Community Room  Gallery | Community Collections |All ages | Bikers Against Animal Cruelty | Masters Manna


Noon  Bipartisan 'Get Out the Vote' Message | Candidates for Town Council and BOE
Green Screen Fun: Make TV Magic. You are the star.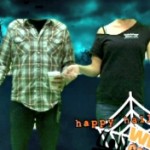 12:15 – 3:15 pm | studioW Greenscreen Fun  Individuals, Families, Nonprofits and Local businesses create holiday messages (Limited commercial restrictions-no selling.)  See More Info at bottom of this page.
Green Screen Fun: Come in costume. Props welcome. There is a wide selection of holiday moving and still images to choose from.

Be The Media Open Mic:  Featuring a variety of local talent (Join in )
3:30 -5:30 PM Open Mic 'live stream' music & more powered by Concerts with Causes
Talent can advance register:  Solo, Duo, Trio Musicians, Choruses, Rappers, (3 Songs max. Original preferred.) Poets Comedians, ActorVists w/ monologues. All Welcome.
There will be a sign up at the event. 1st In | 1st  perform coordinated around advance reservations. There may be a 6 minutes limit for performances (Depends on talent community responses.) Please send an email with time of day you wish to reserve time to "strut your stuff": reserve @ wpaa dot TV 
More Than TV: Meet our thespians. Tickets for upcoming events will be available.
6 PM Improv / Theater Interactive Experience lead by CT Compass Theater Company
7:00 PM "The Surgery" from The Good Doctor Backyard Theater 
What to Bring | A desire to: Discover. Play. Xperience Joy
Donations for Masters Manna and Bikers Against Animal Cruelty.
ENCOURAGED: Props and Costumes for GreenScreen Fun
Door Prizes | Multiple Chances, Multiple Times Throughout the Day
| Door Prize is a 16GB Flash Drive with #Arcy Mural Imprint or StreetshotZ Photo Book.
All donations increase eligibility to win a door prize.
Bring non-perishable food for Masters Manna Inc. Food Pantry & Resource Center.
Bring pet supplies for Bikers Against Animal Cruelty, Inc – BAAC.
Make a donation of $5 or more to #wpaatv and get another chance to win.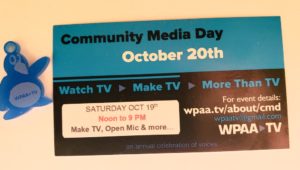 Thanks in advance for your generosity.
What is Green Screen Fun: More About how it works. Very easy. 
Choose one or more holidays (Halloween, Thanksgiving, Kwanza, Hanukkah, Arba'een Pilgrimage, Christmas, New Year's Eve)
Your messages can be any length:  a few seconds long to a few minutes. Each "Make TV " session typically takes 3 -10 minutes. Being holiday-related is not a requirement.
Drop-in. No reservation needed. Be spontaneous.
Or, plan ahead. Reserve time for you or your organization via email:  Put Make TV in the subject line. Provide us with the name of a person and/or organization, time of day and contact phone number. Having a reservation gives you priority attention throughout the day or dedicated time before or after video drop-in hours.
ALL AGES. FUN. NO FEES.
Businesses are welcome to use this opportunity for noncommercial messages. Civic Groups can promote upcoming events. Tell a story.  Youth groups plan a skit or public service announcement. Click here to view a 'shop local' business green screen videos.
#BeTheMedia @Celebrate1020 #CommunityMediaDay
Click here to see Holiday Greeting at similar Green Screen Magic TV events over the years.
You are always encouraged to take a MURAL selfie with Hercules. Tag us on Facebook or Instagram. Click here to see a favorite pic from when Hercules was new to our building  Our first ROAR1st Youth 2015
ONGOING: Donations support what cable fees do not cover including theater, gallery, educational content and use by non-cable TV Subscribers.
GOOGLE WALLET contributions are welcome via the ONE TODAY APP
Donate to  Be The Media In Wallingford