Community Media Day – Oct 20th Every Year
#wpaatv Community Media Day – An Annual Celebration of Voices
Every Third Saturday in October
StudioW at WPAA-TV
28 So Orchard St
Schedule Saturday, October 19th Noon to 9 PM All ages. Free.
Noon Kick-off Bipartisan 'Get Out the Vote' Message | Candidates for Town Council and BOE



12:15 – 3:15 pm | studioW Greenscreen Fun  Individuals, Families, Nonprofits and Local businesses create holiday messages (Limited commercial restrictions-no selling.)
Noon – 2 pm | Community Room  Gallery | Family Pictures spark conversation | All ages
3:30 -5:30 PM Open Mic live stream music & more hosted by Concerts with Causes
6 PM Improv / Theater Interactive Experience lead by CT Compass Theater Company
7:30 PM Theater Monologues & Scenes Backyard Theater Ensemble
Green Screen Fun: Make TV Magic. You are the star.
What to Bring | Door Prizes
A desire to Discover. Play. Xperience Joy.
| Door Prize is a 16GB Flash Drive with #Arcy Mural Imprint.
All donations increase eligibility to win a door prize.
Bring non-perishable food for Masters Manna Inc. Food Pantry & Resource Center.
Bring pet supplies for Bikers Against Animal Cruelty, Inc – BAAC.
Make a donation of $5 or more to #wpaatv and get another chance to win.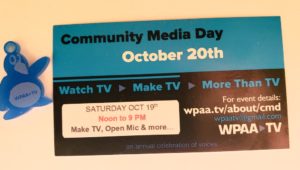 Thanks in advance for your generosity.
Green Screen Fun: There is a wide selection of holiday moving and still images to choose from.
Choose one or more holidays (Halloween, Thanksgiving, Kwanza, Hanukkah, Arba'een Pilgrimage, Christmas, New Year's Eve)
Your messages can be any length:  a few seconds long to a few minutes. Each "Make TV " session typically takes 10 minutes. Being holiday-related is not a requirement.
Drop-in. No reservation needed. Be spontaneous.
Or, plan ahead. Reserve time for you or your organization via email:  Put Make TV in the subject line. Provide us with the name of a person and/or organization, time of day and contact phone number. Having a reservation gives you priority attention throughout the day or dedicated time before or after video drop-in hours.
ALL AGES. FUN. NO FEES.
Businesses are welcome to use this opportunity for noncommercial messages. Civic Groups can promote upcoming events. Tell a story.  Youth groups plan a skit or public service announcement. Click here to view a shop local favorite.
#BeTheMedia @Celebrate1020 #CommunityMediaDay
Click here to see Holiday Greeting at similar green screen Magic TV events over the years.
You are always encouraged to take a selfie with Hercules and Tag us on Facebook or Instagram. Click here to see a favorite pic from when Hercules was new to our building  Our first ROAR1st Youth 2015