The
Community Impact

Award  2021 Nor'easter Film Festival hosted by in the Alliance For Community Media North East goes to

Lisa Catherine, Frank Critelli and Team Hercules

(anchored by

Tom Brady & Aaron Stone

). You are the BEST!

Thanks again to all the musicians that shared their talents. #Staywell
Tribute Page for the 2020 Community Covid Relief Project

– LIVE Music Fire Escape Sessions on TV, Internet & Roku

Please show your appreciation and enjoy in-person live events with these talented folks in 2021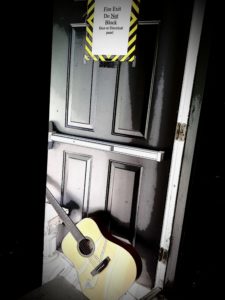 StudioW was closed for regular production as were most Community TV stations. But as we watched local performers sharing solo from their bedrooms, kitchens and basement studios, we made a plan to help. They wanted to perform and folks were missing opportunities to gather and listen to music.
We set up a permanent set and asked a few friends to help us organize a LIVE Music Series for independent musicians or those quarantining together.
Many musicians, do what they do. They wrote new songs about their pandemic experiences. Hundreds of people tuned in on the various platforms.
You are a champions. Everyone comments about what a good time they have performing at the Fire Escape Sessions. I get messages from friends who watch each week saying how great the production is and how good everybody sounds. Thank you so much for letting me be involved. Peace be with you.
Frank Critelli 10/6/20 Performer/Musician Wrangler

Performing for me allows me to engage with others in a form where they can relate to what I am singing about. I think it is important that we as artist continue to encourage and inspire our communities near and far.

We are rebuilding trust and it can be fickle. So with the arts overall it keeps
The people together.
I'm grateful to perform and that the people who show up
In the audience wants to feel good and remember the good
Times when they listen to some of the songs I
Do
Sing
Nekita Waller  @NekitaWallerMusic  Connecticut's 17th state troubadour
I had the opportunity to perform for the Fire Escape Series at WPAA in October of 2020. It was a hard year for musicians. I can't begin to say how good it felt to play the series. It meant a lot to me as to performer that WPAA was working to give us an outlet to express ourselves and share new music that was being created in a strange and uncertain time, and reflected that. We expressed ourselves the way we do best, through song. WPAA is a gem for supporting the abundance of original local artists in CT. I'm grateful for the opportunity they gave me.

Denise Jones, Inner Groove
It was a wonderful experience to do a live stream concert at WPAA. We were treated like royalty and given the opportunity to reach a new audience with my original music. The skill and care taken with the live stream was extended by getting the opportunity to share the performance again online. A lovely time captured on video. Anne Marie Menta
It was an honor to have been able to …help bring live local music of all kinds to the airways. The opportunities afforded artists, from brand new to famous, the chance to share their stories and their music. To this day, I still receive thanks from those who enjoyed and benefited from the experiences & opportunities the project created.  Lisa Catherine Gopoian


All of the sessions and several new songs clips can be found on The Fire Escape Sessions YouTube playlist Go HERE

Viewer Thank you

I had no idea that the arts were so available locally! More than just a TV station! Helen