Place Yourself in Civil Rights History
---
History Remix | Media Experience | All Ages
How are you feeling?  Then set in words what making the remix image felt like? Reflect upon your experience. Why did you select your image? What feelings were you trying to tap? Click here to download a fill-in form with recap of instructions.

Your reimagined image and written reflection of 500 words, or less, will be eligible for prize consideration. Contest ends on March 1st 2022. Submit your remix image and short essay as an attachment to Freeman 's email
Open to all. Wallingford residency is not required.
Use green screen (chroma key technology) to do some time travel and reflection about our Civil Rights Movement.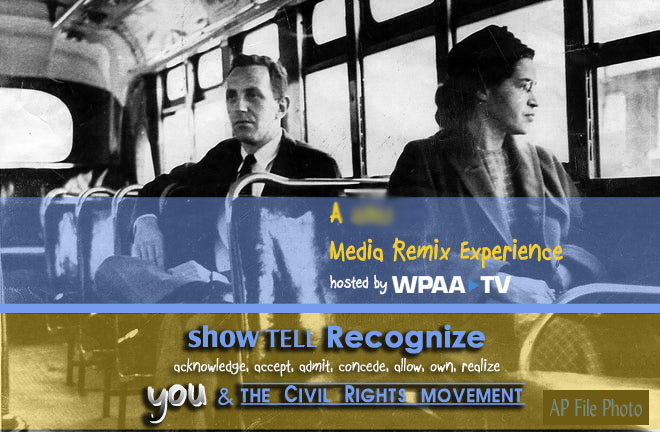 We can support you with green screen and editing software. A green screen is set up on the second floor of #wpaatv in the back most room. Stop in and take some pictures with your a smart phone. If you need assistance staff will take the pictures for you and send them to you via email. Be sure to have reviewed your historic photos to see how you need to pose.
If you need tech to do this we will provide you with access to editing tools.
Or Do It Yourself. There are several free iPad and Android Apps. You can set up any solid color backdrop for your picture. Be sure it is a color you are not wearing. The illustration below show the basic concept of the process for your re-envision photograph.

FIND AN HISTORIC IMAGE
There are numerous sources for photographs and video (to capture stills from.) The adventurous can try to do this project in video. Always credit your image source. We have several of the images referenced below ready for use in the studio. Send an email to us to plan for making your remix image here.
C-Span provides you with a good starting point if you are interested in the 1960s.
The work of Charles Moore may stir your thoughts and feelings.
Public Domain Image search on Google Images. You can tailor by decade.
Citizen Archivists have a hub.
John Kuroski curated 55 photos  that cover this span of events: Harlem riots of 1964 to the Watts riots of 1965, from the March on Washington to the March Against Fear, and from Martin Luther King to Malcolm X, for folks to explore the multifaceted struggle and hope of the civil rights movement. These are in the public domain.
The Anti-Defamation League has curated pictures. They are in a format that may be more difficult to use for this project without assistance. Let us know if you want to use one of these so we can help.
This is not a comprehensive list. You can find your image in other sources. This is just a place to start your process of learning about the civil rights movement and recognizing yourself in it.
This is a education project. Participants are transforming an in image produced by someone else. Because one of your images used in the project was created by someone else that image creator should be acknowledge. Please cite the photographer or publisher of the historic image.
Middle School and High School Student participation is encouraged. If a participating High School student submission is so moving that we use it to promote this event it can be an approved hour of Community Service.
Your reimagined image and written reflection of 500 words, or less, will be eligible for prize consideration. Prizes will be from minority owned or operated businesses. All submissions will be shared with the public. Submission is permission to use in public presentation. Promotional use of images will need written agreement.
The guideline and a template for the written component can be download from here.