Regionally and nationally recognition for excellence & community impact by the Alliance For Community Media is no longer just an aspiration. WPAA-TV has been recognized for performing with excellence by its peers often, since 2013. Similarly, our youth program and local producers won Hometown honors in a wide range of categories that are much more diverse than the traditional talk show. WPAA-TV's legacy of being an early adopter of technology dates back to 1975. Our jump into the digital space was hailed in the very creative 2005 'About Access PSA'(updated in 2013) 'Golden Ticket'. Yet, WPAA-TV remains a mystery to many, a local enigma.
While every story about the evolution of community television is community-centric, the story of WPAA-TV and Community Media Center, as a place for people in Wallingford CT to produce media, is quite peculiar. In fact, the storied history and continued existence of WPAA-TV as a local resource is not something to be taken for granted. In 2019, the cable industry lobby threats were national. In 2022-23, they are statewide. In Wallingford, the survival challenges date back to 1993 and have been ongoing.
A Public Space – A Permanent In-Town Home
On Dec. 29, 2009, after more than a two‐year effort to acquire 41 So. Main St., alongside Town Hall, WPAA‐TV purchased a different in‐town property at 28 So. Orchard St. The adaptive renovation of the 1924 So Orchard St cow barn became the focus of WPAA's barn‐raising strategic plan. The effort was spearheaded by a handful of blue-collar volunteers with children interested in technology.
WPAA‐TV's 2010 Annual Community Access Provider Report recorded contributions of $88,771.38 and 2,281 hours of volunteer service. By 2015, when the final phases of building & property renovations were complete, volunteer service hours dedicated to barn‐raising exceeded 4,000. Property acquisition enabled the creation of a performance and community meeting space. Concurrently, the convergence of media and the emergence of many digital media platforms forced a re‐examination of operational methods and purpose. The financing of the building concluded in March Go to About to see where this history has taken us.
Wallingford's Story Begins in the Public Library
In 1975, the Wallingford Public Library secured a state grant for a televised community message board. The community communications project soon expanded to include a few local television programs including 200 North Main St. a show in which library staff shared details about library happenings. It may be the earliest and longest-running show in CT community media. Over subsequent years, a core group of volunteers assisted library staff in the production of thousands of hours of programming. Less than a decade later (1983), the local administration of P.E.G. production resources was codified in an agreement facilitated by the Cable Advisory Council of South Central CT (CACSCC). As a result, the cable company forged an agreement making television production equipment available for use within each franchise town in the Branford Service Area. In order to qualify, each town needed to establish an independent public access board to oversee the use of equipment. On October 31, 1985, six individuals were appointed to the Wallingford Cable Television Access Board, by then-Mayor William Dickinson Jr., for the purpose of overseeing the use of production equipment supplied by the cable company. In the same year, the show Focus on the Mayor, a conversation between the Mayor and local journalists, ceased production.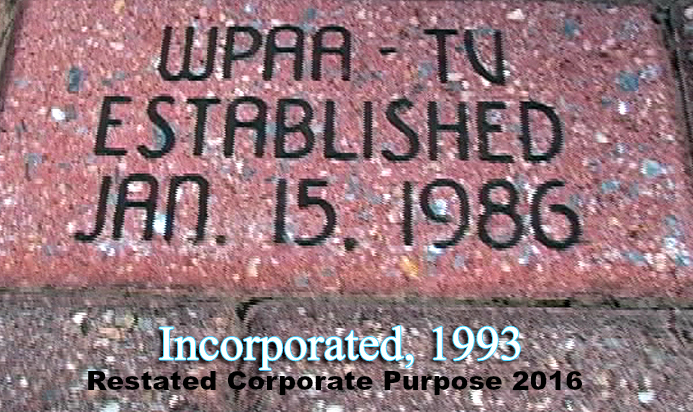 This Cable Television Access Board was the predecessor organization of Wallingford Public Access Association, Inc. (WPAA). The library outreach ended in 1993 over concerns about satire and free speech. As the library board voted to discontinue nearly two decades of progressive service, the town evaluated its obligations under the law and policy options.
With an assist from the town's Legal Department, Wallingford Public Access Association, Inc. (WPAA) was incorporated as a nonprofit in 1993. As the designated Cable Access Provider, WPAA would be charged with meeting the community's reasonable needs for 'P.E.G. Access' further defined in 1995 by Public Act 95‐150 – An ACT CONCERNING COMMUNITY ACCESS OPERATIONS.
In 2016, a fingerprint of control, exercised as a goodwill act by the town's legal department, was uncovered. The corporation was, by its own origination Articles, limited to "television programs of educational value." As a result, the governance team adopted a resolution "Restating and aligning corporate documents which concluded, THEREFORE, BE IT FURTHER RESOLVED that Wallingford Public Access Association, Inc. do business as WPAA-TV and Community Media Center. Subsequently, Amended and Restated Articles of Incorporation were filed with the State of CT that aligned with the universal principles of community media. Concurrently, the organization ceased being a member organization.
STATEWIDE, YET LOCAL, COMMUNITY TV OPERATIONS IN CT
In 1995, the state took a largely unprecedented action by extending legislation from 1980 to officially establish public, education, and government television (P.E.G.) in every Connecticut community. Public Act 95-150 extended the regulatory oversight of Community Antenna TV (CATV) by the Dept. of Public Utilities Control (DPUC), later known as Public Utilities Regulatory Authority (PURA), to include funding and deployment of P.E.G. This Act is codified in CT General Statutes 16‐333. Since much of the state had already begun experimenting with the concept of local programming, a diverse array of community management models existed based on P.E.G. operating rules established in DPUC Docket # 82-11‐16. Subscriber fees were established as the primary source of P.E.G. funding regardless of the mode of P.E.G. delivery.
In 1996, the formal conditions of separation of Wallingford's P.E.G. channels were finalized based on a strong interest in distancing the municipality from liabilities inherent in managing Free Speech. The nonprofit WPAA became the sole recipient of subscriber fees disbursed to Wallingford as the designated Community Access Provider (CAP). In 2008, WPAA's CAP status was reaffirmed in a contentious regulatory proceeding (DPUC/CATV Docket #08‐04‐09).
In 2002, franchise negotiations with AT& T, later transferred to Comcast of Connecticut, LLC Branford Docket #99‐10-05, yielded a 100% net increase of funding to locally operated access organizations in each of the seven towns within the Branford Service Area. Concurrently, the cable company eliminated its direct management of the regional channel, TV 21, and community producer training obligations. The intra-town cable funds allocation, equitable distribution of 60% of franchise area income with the remainder based on population, was retained without full advisory council consensus. Unlike the Hartford franchise, which operates with a town-model, the communities in the Branford area are more diverse in size. Wallingford and East Haven favored a mixed-model, merging smaller town operations, that had proven to struggle during the cable advisory grant oversite era. This arrangement, known as the 60/40 rule, reduced direct per-subscriber funding to Wallingford by approximately 20%. Wallingford CACSCC Advisors and the WPAA Board committed to the 60/40 concession with the understanding that the allocation of funds would be reevaluated in the 2012 franchise renewal. As a result of the 2002 franchise renewal's increase of direct funding to the towns, there came new expectations of local service within each community. By 2004, each town was to maintain regular hours of operation and operate as an Americans with Disabilities Act (ADA) accessible space.
The intent of the federal and state legislation initially was to provide communities with access to communication resources unencumbered by commercial intent. However, laws and regulations continue to be tweaked. P.A. 94-22 changed "public access" to "community access". Certain local providers pursued funding legislation from other uses of the same public rights-of-way. Unfortunately, the effort for more sustainable funding put 'community access' as a whole, with nonprofit providers in particular, under evaluation to define what "community access" is to be 30 years after it was assumed to be sorted out.
Sustaining Community Access – Delivery Award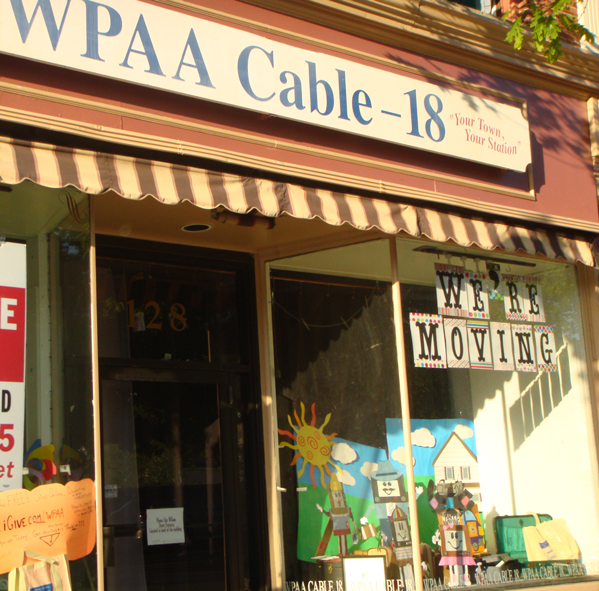 128 Center St. (pictured here) is a storefront.
In 2002, WPAA relocated operations from a 350-square-foot facility at 88 South Main Street to a 3,500-square-foot leased store‐front on 128 Center St. The large open space studio, with early adoption by P.E.G. standards of digital technology, was recognized by CACSCC as a commitment to franchise goals. The Sustaining Community Access – Delivery Award to the WPAA Board recognized WPAA as "advancing the spirit of the new franchise" citing their "commitment and delivery of an accessible Public Access space".
Although 2007, Public Act 07‐253 nullified the franchise, the Branford Service Area towns continue to have funding inter‐dependencies. In 2009, Wallingford requested a docket to review the inter-town reallocation of funds anticipated to be part of the 2012 franchise renewal. Docket #10‐03‐02 was opened for this review. Outcome: The funding reallocation anticipated for 2012 did not occur. The details and impact have been submitted into the record for the legislatively directed 2022-23 study.
More About Community TV History
With the welcoming of Cable TV in the 1960s, communities had the potential to produce local television stories with resources provided under franchise agreements. Advocates across the nation pursued what federal legislation made possible. Connecticut regulations provide every town with some support for the production of community television. For information about the inception and transformation of Public, Education, and Government (P.E.G.) Access TV nationwide, go here.
| | |
| --- | --- |
| 1975 | Wallingford dabbles with communication democracy tools |
| 1985 | Wallingford Cable Television Access Board appointed by the mayor |
| 1993 | WPAA was incorporated as a Public Charity to provide Community Access TV |
| 1995 | WPAA secures its first location and channel, and CT law provides every CT community with P.E.G. funding |
| 2001 | WPAA Board conditionally agrees to support the Branford Service Area towns with the 60/40 reallocation of Subscriber fees in response to Docket # 99‐10‐05 ‐Final July 31, 2002 |
| 2002 | WPAA moves into a storefront location; the WPAA Board receives CACSCC Sustaining Community Access – Delivery Award for "commitment & delivery of an accessible Public Access space." |
| 2004 | 1st place winner of ACM Awards: National/No East P.E.G. promo Golden Ticket, a parody of Willy Wonka |
| 2007 | Public Act 07‐253 passes and franchise agreements cease; A state‐wide video provider entered the television provider market; WPAA adopts a Strategic Plan inclusive of a Community Building Resolution |
| 2008 | In DPUC Docket #08‐04‐09, WPAA‐TV is affirmed as Wallingford Community Access Provider (CAP); WPAA Outreach Program incorporates the mascot Freeman Penny Quinn, 1st Free Speech Ambassador |
| 2009 | WPAA‐TV relocates to 28 So. Orchard St. and successfully completes the initial phase of the renovation project with more than 2,500 Volunteer hours; With citizen support, WPAA‐TV attempts to restore Subscriber fee funding to the anticipated levels |
| 2010 | WPAA‐TV relocates to 28 So. Orchard St. and successfully completes the initial phase of the renovation project with more than 2500 Volunteer hours; With citizen support, WPAA‐TV attempts to restore Subscriber fee funding to the anticipated levels |
| 2011 | WPAA‐TV relocation promo wins 1st place at ACM‐NE Video Festival in the Documentary Event category; P.E.G.PETIA Docket #09‐09‐24 initiated in 2009 approved ($34,941.25) for Distribution equipment |
| 2012 | Docket #10‐03‐02 affirms that approximately $1.50 per year per Wallingford Subscriber, valued at $20,000 annually, is instead allocated to the other Branford Service Area towns indefinitely |
| 2013 | Wins 1st place ACM‐NE Award in the Diversity Empowerment category with youth program Penn's Pals P.E.G.PETIA Docket #12‐10‐20 initiated in 2012 approved ($150,613) for StudioW Upgrade |
| 2014 | Hosts Mission Continues veteran and implements Mission Continues #W06492 Outreach Program; Receives 2013 ACM‐NE Overall Excellence Award entitled "What We Did Together"; WPAA‐TV initiates youth media employment program as a host site for Youth Social Services; Recipient of CFGNH Lisl Karen Streett Funds to continue youth initiative; WPAA‐TV approves Continuing the Mission‐Youth Initiative for 2015 Implementation |
| 2015 | #PowerfulWildFREE Outdoor Mural installation on the north‐side of the building by ARCY Murals; Hercules WPAA‐TV continues youth media employment program as a host site for Youth Social Services; P.E.G.PETIA Docket #15‐02‐12 approved ($226,722) for StudioW Upgrade completion and field equipment Receives 2014 ACM‐NE Overall Excellence Award: How we use our local short videos |
| 2016 | Initiatives launched: ROAR1st, Destination Station, studioWtheater and CommUnity Conversations WPAA‐TV continues youth media employment program as a host site for Youth Social Services; WPAA governance review: Certificate of Amendment filed. Member organization status changed. |
| 2017 | Film Initiative launched. Partnership Agreement for 10 Episode Film Project The Sparrow Falling |
| 2018 | Collaborations with Theater Groups: Hosting Connecticut Compass Theater Company and Backyard Theater Ensemble for rehearsals and actor development; Sparrow Falling News 3rd Place in ACM-NE; WPAA-TV continues youth media employment program as a host site for Youth Social Services; codifies Annual Events |
| 2019 | Opened #SocialActionArt permanent photography exhibit StreetshotZ by Charles Buzinsky with ongoing use to support food and housing insecure programs; Won Best in the USA for our size ACM-National ACM Hometown Overall Excellence; Film Initiative Episode #3 won 1st place Arts & Drama ACM-NE; Six shows were recognized in ACM-NE Nor'Easter Festival |
| 2020 | Hosts LIVE HD Streamed award-winning Fire Escape Sessions featuring CT Musicians during Covid |
| 2021 | ACM Hometown Overall Excellence; Receives grants for youth programs in 2022 by Napier Foundation and Grass Roots Fund and CT Humanities Operations Fund Award for 2022; Finalist in Nor'Easter Festival Community Impact |
| 2022 | Continues coordinating the collaborative fundraiser #TheGreatGive06492 raising $100,000. TeenTigerTV youth win best PSA It Is Never Too Late Call 988 and advocacy What's In The Bag in Hometown Festival, WPAA-TV wins ACM Hometown Overall Excellence again. Grant awards from CT Humanities and ARPA help with program and staffing. Equipment upgrades for the cable casting and youth lab keep our tech state-of-the-art. Pending News of Finalist in Nor'Easter Festival |
| 2023 | Continues coordinating the collaborative fundraiser #TheGreatGive06492 raising $100,000. TeenTigerTV youth win best PSA It Is Never Too Late Call 988 and advocacy What's In The Bag in Hometown Festival, WPAA-TV wins ACM Hometown Overall Excellence again. Grant awards from CT Humanities and ARPA help with program and staffing. Equipment upgrades for the cable casting, and youth lab keep our tech state-of-the-art. Pending News of Finalist in Nor'Easter Festival |
| | |
| --- | --- |
| 1975 | Wallingford dabbles with communication democracy tools |
| 1985 | Wallingford Cable Television Access Board appointed by the mayor |
| 1993 | WPAA was incorporated as a Public Charity to provide Community Access TV |
| 1995 | WPAA secures its first location and channel, and CT law provides every CT community with P.E.G. funding |
| 2001 | WPAA Board conditionally agrees to support the Branford Service Area towns with the 60/40 reallocation of Subscriber fees in response to Docket # 99‐10‐05 ‐Final July 31, 2002 |
| 2002 | WPAA moves into a storefront location; the WPAA Board receives CACSCC Sustaining Community Access – Delivery Award for "commitment & delivery of an accessible Public Access space." |
| 2004 | 1st place winner of ACM Awards: National/No East P.E.G. promo Golden Ticket, a parody of Willy Wonka |
| 2007 | Public Act 07‐253 passes and franchise agreements cease; A state‐wide video provider entered the television provider market; WPAA adopts a Strategic Plan inclusive of a Community Building Resolution |
| 2008 | In DPUC Docket #08‐04‐09, WPAA‐TV is affirmed as Wallingford Community Access Provider (CAP); WPAA Outreach Program incorporates the mascot Freeman Penny Quinn, 1st Free Speech Ambassador |
| 2009 | In May, contracts with ATT U‐verse to carry programming (in 2014 ATT sells to Frontier Communications) |
| 2010 | WPAA‐TV relocates to 28 So. Orchard St. and successfully completes the initial phase of the renovation project with more than 2500 Volunteer hours; With citizen support, WPAA‐TV attempts to restore Subscriber fee funding to the anticipated levels |
| 2011 | WPAA‐TV relocation promo wins 1st place at ACM‐NE Video Festival in the Documentary Event category; P.E.G.PETIA Docket #09‐09‐24 initiated in 2009 approved ($34,941.25) for Distribution equipment |
| 2012 | Docket #10‐03‐02 affirms that approximately $1.50 per year per Wallingford Subscriber, valued at $20,000 annually, is instead allocated to the other Branford Service Area towns indefinitely |
| 2013 | Wins 1st place ACM‐NE Award in the Diversity Empowerment category with youth program Penn's Pals P.E.G.PETIA Docket #12‐10‐20 initiated in 2012 approved ($150,613) for StudioW Upgrade |
| 2014 | Hosts Mission Continues veteran and implements Mission Continues #W06492 Outreach Program; Receives 2013 ACM‐NE Overall Excellence Award entitled "What We Did Together"; WPAA‐TV initiates youth media employment program as a host site for Youth Social Services; Recipient of CFGNH Lisl Karen Streett Funds to continue youth initiative; WPAA‐TV approves Continuing the Mission‐Youth Initiative for 2015 Implementation |
| 2015 | #PowerfulWildFREE Outdoor Mural installation on the north‐side of the building by ARCY Murals; Hercules WPAA‐TV continues youth media employment program as a host site for Youth Social Services; P.E.G.PETIA Docket #15‐02‐12 approved ($226,722) for StudioW Upgrade completion and field equipment Receives 2014 ACM‐NE Overall Excellence Award: How we use our local short videos |
| 2016 | Initiatives launched: ROAR1st, Destination Station, studioWtheater and CommUnity Conversations WPAA‐TV continues youth media employment program as a host site for Youth Social Services; WPAA governance review: Certificate of Amendment filed. Member organization status changed. |
| 2017 | Film Initiative launched. Partnership Agreement for 10 Episode Film Project The Sparrow Falling |
| 2018 | Collaborations with Theater Groups: Hosting Connecticut Compass Theater Company and Backyard Theater Ensemble for rehearsals and actor development; Sparrow Falling News 3rd Place in ACM-NE; WPAA-TV continues youth media employment program as a host site for Youth Social Services; codifies Annual Events |
| 2019 | Opened #SocialActionArt permanent photography exhibit StreetshotZ by Charles Buzinsky with ongoing use to support food and housing insecure programs; Won Best in the USA for our size ACM-National ACM Hometown Overall Excellence; Film Initiative Episode #3 won 1st place Arts & Drama ACM-NE; Six shows were recognized in ACM-NE Nor'Easter Festival |
| 2020 | Hosts LIVE HD Streamed award-winning Fire Escape Sessions featuring CT Musicians during Covid |
| 2021 | ACM Hometown Overall Excellence; Receives grants for youth programs in 2022 by Napier Foundation and Grass Roots Fund and CT Humanities Operations Fund Award for 2022; Finalist in Nor'Easter Festival Community Impact |
| 2022 | Continues coordinating the collaborative fundraiser #TheGreatGive06492 raising $100,000. TeenTigerTV youth win best PSA It Is Never Too Late Call 988 and advocacy What's In The Bag in Hometown Festival, WPAA-TV wins ACM Hometown Overall Excellence again. Grant awards from CT Humanities and ARPA help with program and staffing. Equipment upgrades for the cable casting and youth lab keep our tech state-of-the-art. Pending News of Finalist in Nor'Easter Festival |
| 2023 | Continues coordinating the collaborative fundraiser #TheGreatGive06492 raising $100,000. TeenTigerTV youth win best PSA It Is Never Too Late Call 988 and advocacy What's In The Bag in Hometown Festival, WPAA-TV wins ACM Hometown Overall Excellence again. Grant awards from CT Humanities and ARPA help with program and staffing. Equipment upgrades for the cable casting, and youth lab keep our tech state-of-the-art. Pending News of Finalist in Nor'Easter Festival |