Grassroots Giving: Direct Gift Options
We participate in #TheGreatGive06492 with other Wallingford nonprofits annually seeking grassroots donations. Watch for this mid-year community-giving opportunity that matches your support.
Gifts are welcome any time to pay for things cable fees are not eligible to cover. WPAA-TV is registered with PayPal Giving Fund a no-fee way to donate. Make your Gift via PayPal here.
Three online shopping portals that support us at no cost to you.
And then there are ways to have an ongoing relationship with us when you shop. We support shopping locally but sometimes Internet shopping meets the need. It may be the same for you. Did you know you can shop on the Internet and make a local contribution? There are a few ways. WPAA-TV is registered with AmazonSmile. and iGive. iGive shoppers often get great deals and a % of the sale helps locally (more than .005 % at AmazonSmile). Check them out: Igive info here.
As part of our Think Global Act Local Mission, we are a TruEarth Affiliate. We receive 20% when you purchase with this link. WPAA-TV and Community Media Center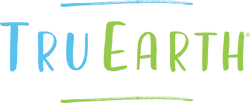 As part of our Think Global | Act Local Mission, we are a TruEarth Affiliate. We receive 20% when you purchase TruEarth Products via this link. WPAA-TV and Community Media Center
Or when you search, a penny a click
Searches on Bing send pennies our way. Bing searches will be automatically donated to their selected cause for individuals signing up for Microsoft Rewards, Microsoft's loyalty program. Select us:
FUNDED BY 'WE THE PEOPLE' | Our Volunteers
The largest contribution to our fiscal health | Cost reduction through volunteer support
Since 2010 volunteers have provided in-kind services approximating our annual cable fee revenue. Community support enables WPAA-TV to be more than TV as cable fees are funds designated for TV production only.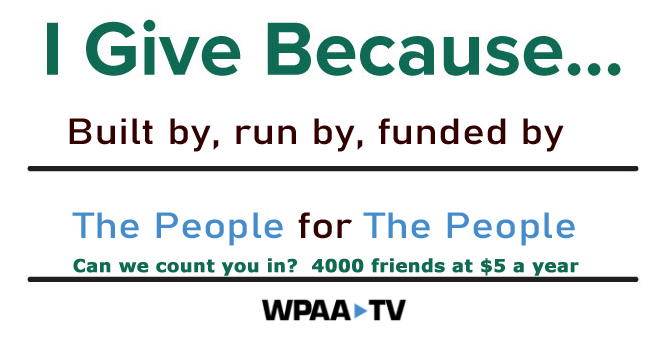 Transitioning to grassroots support is a vital next step.
Cable Fees – An uncertain source of Income from cable TV subscribers ($8.44 annually)
WPAA-TV is funded, in large part, with funds assessed upon cable TV companies. These companies have rebranded as broadband. When the same content is provided over the Internet on the same infrastructure these companies avoid payment of rights-of-way fees. Outdated language and exponential technological change are eradicating the base for community media funding.
WPAA-TV is noncommercial. Business underwriting is messy in this regard.
does not seek This leads to do not pass the and are retreating from the tradition providing services ) in lieu of taxes for use of public rights of way as determined by Federal and State legislation. Companies choose to pass this use cost to customers as fees. It is not a tax, it is just capitalism. Use of these fees is restricted to services provided as the Cable Access Provider.
Wallingford subscriber fees subsidize the communities of No. Haven, No. Branford, Madison, and Guilford. This subsidy was to be modified or concluded in 2012. Wallingford town leaders chose not to support the retention of Wallingford fees for Wallingford and former Senator Len Fasano and Rep. Vincent Candelora supported the transfer of funds to their communities. In 2010 WPAA-TV unsuccessfully pursued restoration of funds PURA Docket 10-03-02
https://www.dpuc.state.ct.us/DOCKHISTPost2000.NSF/(Web+Main+View/All+Dockets)?OpenView&StartKey=10-03-02
Services that are not TV (inclusive of video streaming, building maintenance, festival submissions, theater and film initiatives, public art, civic and information literacy, partner projects, and a significant portion of our administrative overhead) must be funded from other sources.
As a giveGreater.org participant, there is full public transparency on financials, policies, and regulatory compliance.