Our collaborative language literacy program #in2languages #en2idiomas features four magazine style spanish content news programs produced by DW.DE. Enforma , Global 3000 , Enfoque Europa and Vision Futuro are scheduled three time a week, midday (11:30 am to 12:30 pm). The same programs produced in English precede and follow this daily hour of current global news in Spanish.
This cablecast collaboration of DW.de content designed to support language literacy in either English or Spanish is possible through a #GoodEnough2Share arrangement with the Spanish Community of Wallingford (SCOW).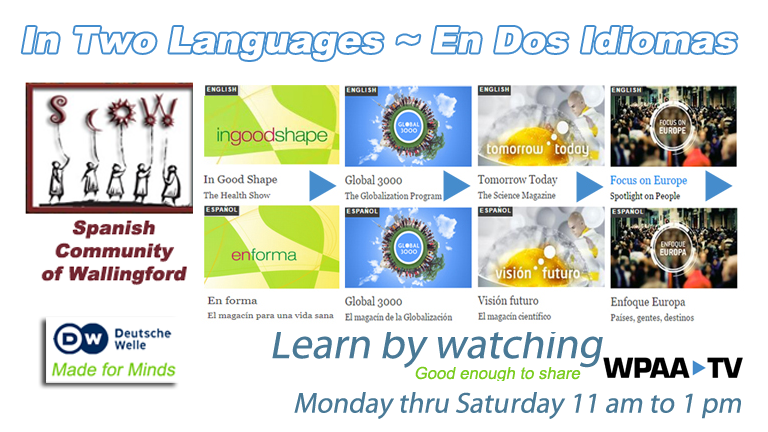 Content which is not created locally qualifies to be cablecast when represented locally. Here are the four spanish content programs currently shown:
Every week there is new midday In2Languages content. Check out the programs playing each week in English here: In Good Shape, Global 3000, Tomorrow Today and Focus on Europe as well as other programs we redistribute produced by DW: Conflict Zone, Euromaxx, SHIFT and Corona Virus Global updates.
HOW IT WORKS
At 11:00 AM DW.DE Global News Programs play on WPAA.TV in English followed by the Spanish version of the same content. At Noon News in Spanish is followed at 12:30 PM by the same content in English. Weekdays and Saturday from 11:30 to 12:30 Global News plays on WPAA-TV in Spanish. Programs start on the half-hour as shown below.
El horario de programación es de Lunes a Viernes, a las 11 AM. Los programas de noticias son transmitidos en inglés, seguidos en español de 11:30 a 12:30 PM, y luego nuevamente en inglés a las 12:30 PM


————————————
HOW TO WATCH
If you live in Wallingford and get your TV from Comcast: Watch on Channel 18 or 1070
If you live in CT and get your TV on Frontier Cable: Go to Channel 6091.
If you subscribe to DISH, you cannot watch on TV but you can watch on the Internet.
All WPAA-TV content can be watched the same time as TV schedule on the Internet: Click Here to watch.
Usted puede ver esta programación en el Canal 18 o 1070 a través de Comcast, o en el Canal 6091 si tiene Frontier.
Todo el contenido televisivo de la WPAA-TV está también disponible en internet a través de nuestro sistema de internet simultaneo.  Click Here to watch
————————————
DW In Good Shape – The Health Show (English)  DW Enforma –  (Spanish) More about the programs   here:
DW Global 3000 – The Globalization Program (English)  DW Global 3000 –  (Spanish) More about the programs   here:
DW Focus on Europe – Spotlight on People (English)  DW Enfoque Europa (Spanish) More about the programs  here:
DW Tomorrow Today – Science Magazine (English)  DW Visión Futuro (Spanish) More about the programs here:

Learn by Watching Television
A collaborative language literacy, #In2Languages #En2idiomas, partners the missions of  Spanish Community of Wallingford with WPAA-TV to promote 'learning by viewing' identical content in both English and Spanish. #In2Languages #En2Idiomas news magazine style stories about the world, technology, health, and arts are produced by Deutsche Welle.  Promotion assistance is provided by the Spanish Community of Wallingford (SCOW), Wallingford Adult Education and Literacy Volunteers and Language teachers. Spanish Language students are encouraged to watch in the summer or Saturdays to help retain language skills. English language learners are encouraged to watch on their lunch break. It is also a means of learning Spanish.
ABOUT | Since Oct 2012
This language literacy initiative began in Oct 2012 with a two world news programs. Now four news programs scheduled in tandem, weekdays midday is our  Language Literacy Program: #In2Languages #En2Idiomas.
From 2012-14 content was scheduled to play concurrent when it was highly likely that community members might watch on the TV in SCOW's lobby/wait area.
Now a decade old, #In2Languages| #en2idiomas remains available as community TV thanks to the generosity community donors. Special thanks to Michael and Zorayda Cocchi whose annual donation to WPAA-TV seeds the community donations. $900 is needed to cover the spanish  content cost. The English versions of the same stories remain available via a generous content grant from Deutsche Welle. Over the years wpaatv secured grants to cover the costs of all content but now the initiatives existence is reliant on community support. Friends of SCOW and WPAA-TV donate to WPAA-TV via the community-wide GreatGive Fundraiser in May. May is when the DW contract renews.