Take THREE 2019 3-Minute Movie Challenge is UnDERWAY
The challenge: A movie about a Wallingford person, place or thing that includes the challenge line and image.
Your movie can be in any style. It can be made with your phone, PowerPoint, online animation tools, the equipment you have or borrow from us. We will be happy to help you with your movie. Stop by.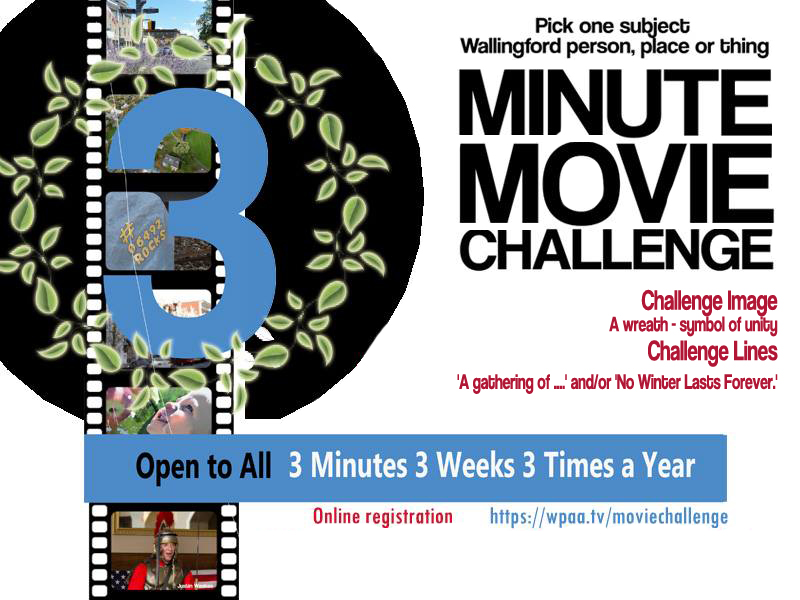 Open to all ages. Register from this page any time between Dec 15 – Jan 5. Submissions are due by 6 PM on closing date. There are a few rules: 1) Register. 2) Include the challenge image and lines.. 3) Have fun.
YOUR MOVIE MUST INCLUDE the challenge line and image described on this page.
In addition to story and technique criteria, the judges give points for creative use of the challenge line and image. This helps us know you made the movie for this challenge. It gives us something more to help identify the winner(s). There can be multiple winners IF we have several movie-makers in a few age categories. Tell your friends about it.
Challenge Image:  
For this challenge, your movie needs to include Wreath
This can be a still or moving image.
Challenge Line:  'A gathering of ….' and/or 'No Winter Lasts Forever.'
A line is a movie element that is most often in dialogue; however, as the movie-maker, you decide how to use it.
This line can be spoken or shown.
You can use one or both lines. Only one is required.
How to submit a movie
Upload to a platform of your choice (Youtube, Vimeo) and send us the link via email: movie at wpaa dot tv or drop of a file at 28 So Orchard street by last Sunday in registration period between 11 am and 6 pm. You can call 203-294-9722 to make arrangements for drop off or to reserve equipment to film or edit.