Join us as a Team-Hercules Member. Make a mark on our community with digital and public art service.  Volunteer opportunities only in 2021.
Contribute. Belong. Wear the paw.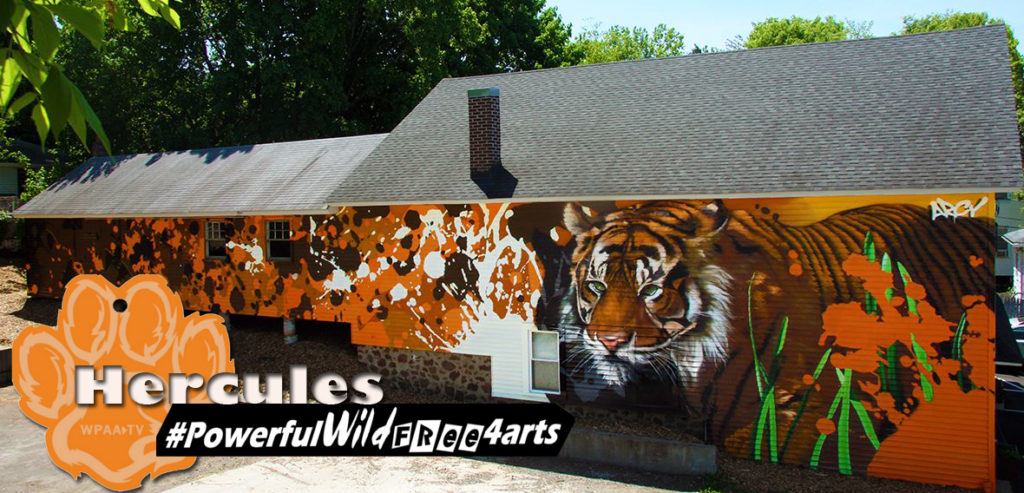 We are because you are. We experience collectively more within our shared experiences in stories and art and kindness.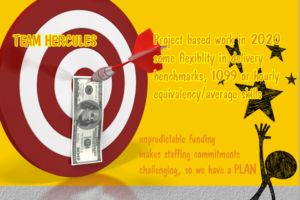 Team Hercules Projects (Compensation for high valued volunteers was not funded for 2021):  If you have data entry, audio, or video editing skills you are welcome to volunteer, learn the place and make yourself known to us in case projects are funded in the future.
Make your mark with art:  The paw-print of our mural tiger Hercules is a metaphorical symbol of empowerment for those journeying with us on adventures in citizen media. Team Hercules participants help us produce video stories, share our adventures in social media and transform our community in ways they choose, every day.
A much-bigger-than-life mural of a tiger fills the north side of 28 South Orchard St., home of WPAA-TV. During three days in May 2015, local graffiti artist Ryan "ARCY" Christenson painted a photo-realistic mural on an outside wall of the TV station building. Later that year in a community engagement contest Name the Tiger  the mural tiger was named 'Hercules' by a member of Most Holy Trinity Church.
Why was Hercules selected as the name and not Stripper or Leo or any of the dozens of submitted names?
The name Hercules won because of its affiliation with heroic transforming stories; stories that feature a flawed character who discovers resources for gaining wisdom, endures misunderstanding and experiences a wild yet empowering journey to personal freedom and greater human-kindness.
The mythological Hercules was a defender of his birthplace and a multifaceted hero-figure with contradictory characteristics. He became famous for his strength, numerous far-ranging adventures and his virtuous struggle and suffering. Terrible things happened to him because of a hatred that he was not responsible for. Throughout his journey, Hercules learned to redirect his immense anger and rage into eradicating rather than wreaking evil. He learned that noble blood, physical strength, and political power aren't enough to succeed or be happy. He came to know that patience, fortitude and endurance are heroic and transforming attributes that can humanize a man making him more a part of, rather than apart from, others. Hercules' adventurous tales became lessons about humanity.
The philosophical world view that embraces redemption and transformation by uplifting diversity and mutual support within a community is Ubuntu. It promotes the idea of achieving a community's good through an unconditional recognition and appreciation of individual uniqueness and differences. The spirit of Ubuntu is what we hope to accomplish with the Team-Hercules movement in our community. The truth taught in Ubuntu is "I am a human because I belong. I participate. I share. In essence, I am because you are."
Contribute. Belong. Wear the paw.