?
?
?  This is the first time in 24 years Wallingford Public Access (WPAA-TV and Community Media Center) is asking for direct $$$ contributions from the community. We are doing so through theGreatGive which is a Community Foundation of Greater New Haven initiative that combines local giving with incentives and prizes. With a good community response we could qualifying for thousands of dollars in prizes for greatest number of 'new' contributors or individual donations.
On May 4th we look forward to sharing with you how we did on our goal to be sustainable for the generations to come.
We hope you are encouraged by what we do and decide to give us a thumbs up with a secure online contribution. Please check 1st time donation.
Click here to go to the Wallingford Public Access specific giving link.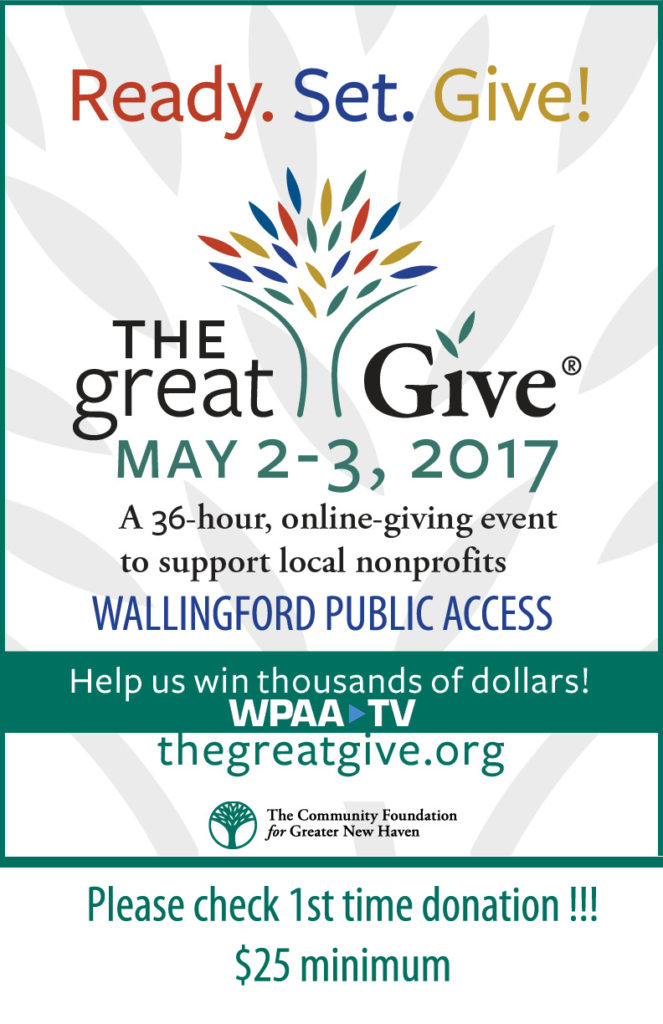 Why this year?  We have been busier than ever before with at least two projects bringing in several volunteers to make media. We know it takes a large number of local supporters to turn #thegreatgive into a success. We only know if we are your station if you let us know that you support what we do. #thegreatgive is an easy way for you to Be Freeman  which is our way of saying a person concerned about their community.
Some things you may not know about us:
We are volunteer run.
We do not charge for services.
We are a host training site for many programs.
Mid-day, weekdays our TV programs are distributed #In2Languages.
We have life-long learning content.
We are located in-town in a renovated 1924 barn that we have are close to owning outright.
We have a state-of-the-art studio and performance space.
We exhibit works of local artists including a mural by #ARCY on the north side of the building.
We only play works of local musicians behind our volunteer made community announcements.
We are MORE THAN TV.
?