Good Enough To Share is probably one of the most valuable local programs because our viewership, your neighbors ask us to share content they think is important to know or experience. This weekend we will be blessed by the efforts of Brattleboro Community TV who had captured the 13th Annual Collegiate A Capella Concert held Feb 6 featuring the Yale Society of Orpheus and Bacchus, Tufts Amalgamates, Dartmouth Aires, Skidmore Dynamics, Castleton Vocal Unrest and Tufts Beelzebubs.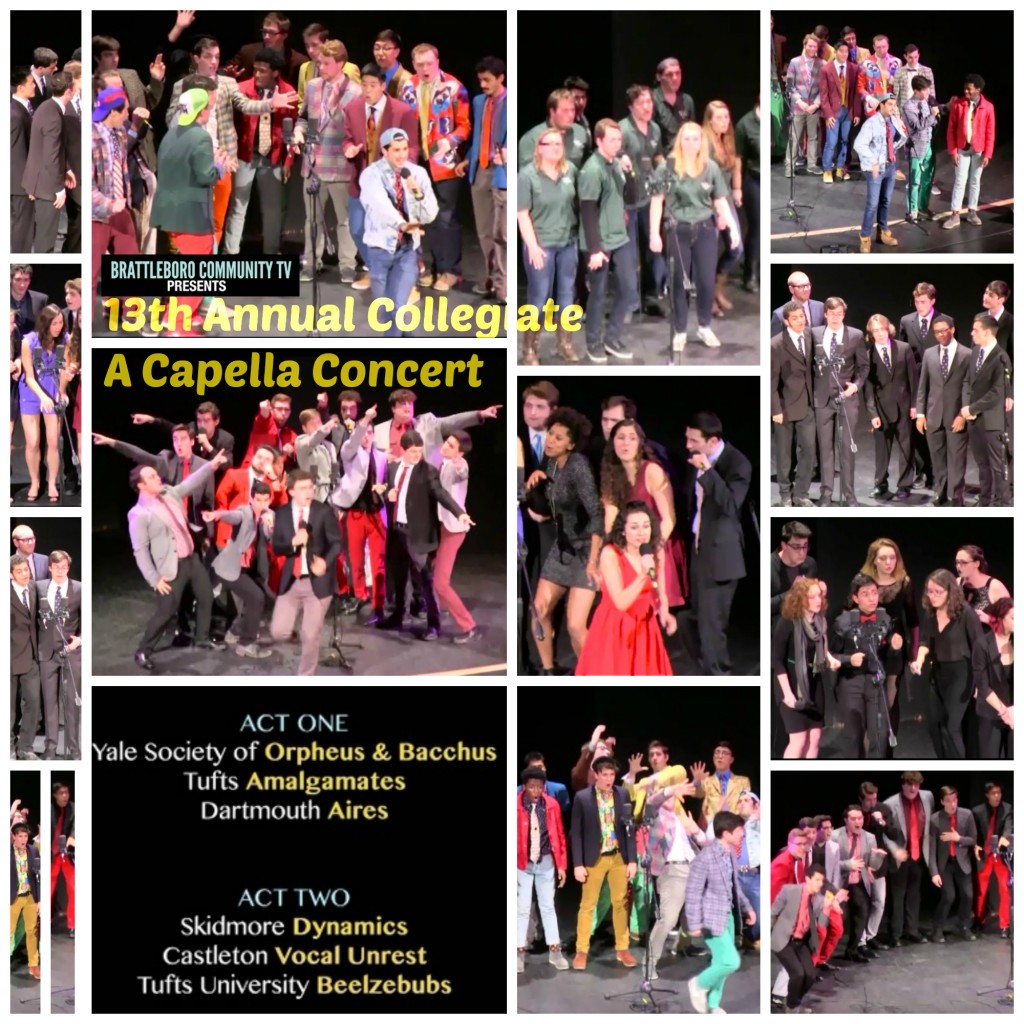 This program 13th Annual Collegiate A Capella Concert is scheduled as TV for Friday, Feb 19th beginning at 8:30 PM and the 20th at 9 PM. The duration is 2 hours 15 minutes.  Enjoy.
Three neighbors got the following Thanks from WPAA-TV. Irma Zola, David Burghardt, Lisa Catherine.
Thanks for your interest in the Guarantor Program Good Enough to Share at WPAA-TV.
Guarantor affiliation is handled via electronic correspondence. A reply to this email with your name replacing the text shown below in red is the process by which this content becomes Good Enough to Share. This guarantor language identifies the program, its source, any Web presence if known, and acknowledges your willingness to be publicly affiliated as the local representative of the content on WPAA-TV.
As Guarantor of "13th Annual Collegiate A Capella Concert " I, "insert Guarantor Name here" accept responsibility to be the local representative of media created by Brattleboro Community TV for re-distribution by Wallingford Public Access Association Inc. (WPAATV).  I agree to have my name publicly affiliated with the appearance of this program on WPAATV.   I understand this program is noncommercial. I understand the content is in compliance with the policy because it was produced at the Community Access Station serving Brattleboro VT which maintains comparable creation & distribution policies.
I understand that WPAA-TV is relying upon this Agreement and its representations for the legal distribution of the named media under its Guarantor Program.
More About the Good Enough To Share Program:  A Guarantor is someone 1) eligible as a registered WPAA-TV User, 2) passionate about the subject matter, or free speech, who by publicly being affiliated with the content will 3) take responsibility, for any local interest and feedback; sharing the schedule with the community via social media or word-of-mouth methods. The Guarantor's name is added to WPAA-TV website as the individual(s) helping to bring content to Wallingford. This individual will also be identified in program promotion-related Social Media.
There are two ways to participate:  1) WPAA-TV can suggest video programs that are already in compliance with local non-commercial policy and have copyright clearance for redistribution as local TV to individuals interested in supporting the local play of informing content. All programs are of good technical quality and can be acquired at no cost to individual or WPAA-TV or 2) residents can identify content developed elsewhere and secure permissions to re-Distribute. In this instance, the User takes responsibility for compliance with all content issues including copyright.