Thank you for your commitment to community media; we look forward to supporting your citizen media productions going forward.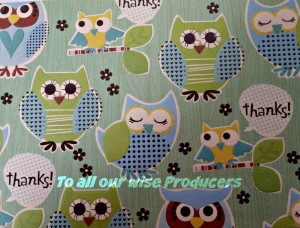 Hours of Operation for studioW use:
We close at 9 PM. Studio reservation times are evenings from 5 to 7 and 7 to 9 PM. If you need to arrive earlier we will try to accommodate you. The 1st and last 1/2 hour is for set-up and breakdown of the studio space. Producers should arrive before guests and are responsible for preparing the set for their shows.
Reservations in the 7-9 timeline must complete recording by 8:30 PM in order to complete all procedures to package the video for future timely scheduling and VOD. If an extension is desired please see if staffing can be worked out or volunteers made available to support a later closing time. You may be asked to donate $25 to WPAA-TV for late closing support.
When you come in to make TV, the Set-Up:
Please provide the names and titles of your guests in writing. Verify names entered into the system before recording.
If using video or images that need to be loaded to the system before recording, please arrive during designated set-up time to load and test these elements in a timely manner.
If you are planning a moderate change to your program such as extra guests please make your studio support person aware of this change ASAP. An advance email notice to the office would be appreciated. A major change from talk show to performance event requires 1 weeks' notice and may not be possible in the originally reserved time because support staff and access to the building differ.
The audience area is for seating only not tables or displays of any kind. Chairs need to be set out to allow for clear access to all doors.
Be aware of your countdown time; all programs are to close with a disclaimer and produced at WPAA-TV trailer elements in addition to program-specific credits.
Aisle and Fire exits: Take care not to put set items in front of the Fire Door.
Noncommercial, nonprofit/Merchandising:
Our Bulletin Boards are not to be used to promote your business, your guest business, or your or ministry. Allowed: Producers can post their business cards/contact information. WPAA Staff can post notices related to WPAA-TV.
Solicitation of monetary donations or contributions is allowed for nonprofits: charitable appeals for funds are within the protection of the First Amendment. Viewers must be able to validate the nonprofit based on information provided in credits.
Producers who engage in merchandising or ticket sales to underwriting their productions are expected to maintain financial records establishing that the proceeds are used for valid program production expenses. Merchandising can, with advance notice, be set-up downstairs to be managed by a production team member during attendees sign-in or after the program. If attendee accessibility is a concern, the green room area can have designated areas created. Guests with intent to merchandize: WPAA-TV resources are provided at no charge on a 1st come, 1st serve basis. The use of community resources for personal gain is not allowed as part of the stewardship of these resources. Sales of books, CDs, fan art or other paraphernalia is not to be done in the TV studio. If a guest will be incurring costs to participate in the TV Production experience, the Producer will need to document expenses and sales income to validate sales off-set actual expenses.
Refreshments:
No food in the studio. Water cups or bottled water for you and your guests are permissible. (Staff should adhere to this as well whenever possible).
Serving & sharing food will be limited to the 2nd-floor green room or 1st floor. The large TV in the green room can be ON to watch the show from there while eating.
Please clean up before leaving. If you have refreshments please have volunteers responsible for cleanup.
WPAA-TV does not underwrite refreshments for guests. WPAA-TV keeps Triple Spring Water available for everyone's use. If you use other items like paper products or coffee some reciprocity is expected. Dishware is taken off-site for cleaning/sanitizing after use.
Communication to staff: Please make all requests for support changes to Susan in person or via email to wpaatv at gmail dot com. Please do not contact staff via Facebook, personal emails or personal phone unless it is an emergency and reaching out through the main office has been unsuccessful. Our schedule is published to staff on Sunday by 3 PM so arrangements need to be made by noon the Sunday before the desired change.