Community TV is regulated via public policy yet this does not mean it is the same from community to community. Your Town, Your Station for communities the size of Wallingford can be up to a half-million dollar yearly enterprises with 4 to 9 paid staff (Massachusetts and Rhode Island); or all-volunteer efforts on a barely sustainable budget. Some local access organizations comprise all aspects of Community TV (Public, Education, Government) working together to curate, create, produce and distribute local news, stories, ideas and educational materials. Some serve many communities. Others like ours serve just one town or municipality. Each one exists based on a regulated (and sometimes direct) agreement with a Cable TV Provider.
In 1995 CT established that all communities will have Community TV in a manner considered reasonable based on community needs largely established by earlier advocacy. This law and the disruption of the cable market place by AT&T in 2007 has left CT with a hodge-podge of community media. It is so different from town to town it is hard to describe what it is or how to use it. More importantly, advocates fear to advocate for modernization of the landscape; thereby, being captive to decades old regulations that no longer represent the intent or potential of this 'could-be' vital local resource.
Community TV stations committed to the potential of citizen media are active members of the Alliance For Community Media(ACM).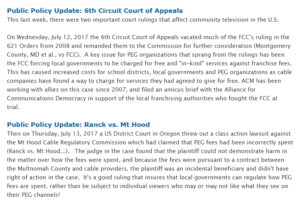 ACM is an organization dedicated to helping each Community TV be its best self: Sharing best practices, holding conferences to train staff or volunteers and recognizing local efforts with video festivals and leadership awards.
Another very critical role ACM provides is the monitoring and safeguarding of Public Policy on behalf of all of us. This means there are pro bono lawyers working on behalf of democracy and your right to have your voice heard on cable TV (a.k.a.Free Speech).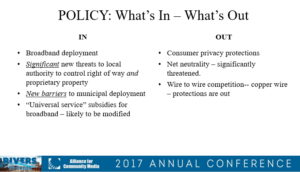 In 2005 Members of the Cable Advisory Council recognized the value of public policy advocacy and networking among stations and approved ACM membership through the council as a shared service. The provision for CACSCC was established by statute to address cable customer and Community TV (PEG) matters. Appointments are made by local communities. Wallingford has not been fully represented since 1995. Wallingford was an ACM member under this arrangement.
An umbrella Membership through CACSCC was negotiated on behalf our franchise area which has seven town specific PEG organizations. This enabled each town to have full benefits under an umbrella payment equal to an access organization with our combined budgets. At this time that amount of ACM payment would be $875 for an organization with a budget of $350,000 to $549,000 rate rather than the minimum of $250 x 7 ($1750).  Per public records, CAC paid only $575 in 2014 and then reduced the payment to $250 in 2015 and in subsequent years.  This action was taken without notice to the seven access organizations. When this action was discovered by Wallingford advocates in 2016 several efforts were made to have 7-town membership reinstated.  In 2016, the Board of WPAA-TV decided to register with ACM independently and committed to doing so regardless of any action taken to fulfill the membership of all seven towns since public policy support is vital to our existence on behalf of the community.
And we enjoy participating in festivals which have recognized our efforts to serve you.