As I reflect on our year together, I get review comments from the 2016 Video Festival Reel which was edited to represent what made 2016 different at WPAA.TV. It was accompanied by this description of 2016.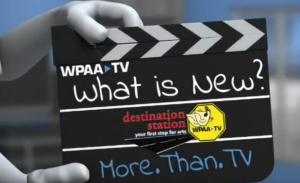 We hope you enjoy your video visit to wpaa.tv viewing our compilation reel: More.Than.TV
About our year 2016:
More.Than.TV was adopted in a strategic planning session. In a 'ha ha' moment our Board realized the new logo [a 'play-button' between our organization acronym WPAA (Wallingford Public Access Association) and TV] essentially said what we want to be, when typed: WPAA > TV.
What constitutes More-Than, follows:
In January, we launched Destination Station to attract performance artists and filmmakers. By Q2, a local producers started a bi-monthly /audience welcome show: Music with Purpose. Both attracted dozens of new visitors per show in addition to versatile talent. Be The Music, our hyper-local loop of music by local musicians, concurrently got a boost when we added musicians performing at WPAA to those eligible to be our alternative to a radio station backdrop to local messages.
Word did get out. Filmmakers began to understand that our equipment was available at no-charge and we distributed content with duration other than 30, 60 or 120 minutes. Some used our studio, others just remote equipment or editing tools to make short films. By Christmas, a newly forming ensemble of actors joined a local producer on a 10-episode film for 2017 release: The Sparrow Falling. The initial 20 seconds show tease "the orb" was re-purposed art from our #PowerfulWildFree4Arts sculpture exhibit.
Supporting nonprofits and finding more ways to engage local business was our counterpoint to arts. Some businesses joined with producers, civic groups and citizens to make Holiday Greeting; a decade old WPAA tradition. Others participated in a new show 'CommUnity Conversations'. Some did event PSAs. #In2Languages, a 4-way community outreach and business collaboration was successfully launched in August. It leverages free DW Global News (English) content available to all Access Stations with local underwriting to acquire the same content in Spanish.
In 2016 WPAA was sought out as a host training location for differently-abled individuals. Our graphics and audio capabilities were enhanced with these affiliations. We have included some new promotional graphics toward the end of this reel and announcements about the other re-branded initiative #GoodEnough2Share.
ADDENDUM
WPAA-TV is a volunteer run Public Access station in CT with a budget of less than $90,000 a year. We are located in a renovated 1924 cow barn. This community building was renovated in phases by our volunteers. It was most recently transformed (May 2015) with a mural to address blight. We own 18 inches of land on the mural side of the building. When we purchased in 2010 there was a building next door. The mural artist, ARCY, is a life-long resident. The Tiger has been named Hercules.
~~~~
The scores were a 2 out of 5 for representing different segments of community and range of programming. There were 5 comments with the scores of which two would like to see more diversity.
Two judges identified the need to see more diversity in our programming. In addition to having content in two languages identified in the reel I can not really grasp how the content was not even considered moderately diverse in all aspects of diversity. We are a judging location and we take this festival and the commitment to judging very seriously.
Let me break down what was in our reel which is not everything in our 3,000 plus hours merely what we considered MORE THAN TV.
Types of programs: Performance, Talk Shows, PSAs, 4 different styles of film, animation, LIVE, remote and Community Messages and graphics
Ages: Kids, Youth, Seniors and everything in between
Religion: Christian, Jewish, Muslim,
Issues: Health, Mental Health, Business- Local, Manufacturing and non-profit, At-Risk Children, Veterans, African Dream
Race: More representative than our community
Topics ranged from Medieval History to event-promotion to role of nonprofits in the community to celebrating community.
Yes I agree that our producer's did not take care about audio cable visibility … but to identify WPAA-TV as lacking diversity… makes me wonder if I need to represent the margins rather than what walks in the door to be considered achieving our mission with excellence.