He is 22. His prospects for employment elsewhere are diminished by his capacity to focus. He tells me "I choose to work here in User Support because it makes-a-difference." He will gladly chatter about how the shows he schedules to play as TV are important to watch until he is reminded: Yes, it is time to schedule those shows.
AARP Purpose Prize Stories  tell of thousands being served through organizations seeded and nurtured by individuals 50-plus. My cost-benefit mind does somersaults at the idea of serving thousands in meaningful life-changing ways. I am curious about the connections, teams, dollars and obstacles that are dynamics within each of these stories. I also wonder how many 50-plus individuals facing a down-turned economy created themselves paying jobs. In my heart I applaud those who turned a personal loss or wound into something worthy. The stories are inspiring and I look forward to reading about more each year. And yes, I do wonder what would I do with a "purpose prize" that is different than what I choose to do daily?
Similarly, I am curious about the stories unknown to me about what I voluntarily commit to everyday in a narrow one-engagement-at-a-time, sort-of-way.  Who may be learning English or Spanish? Who may be inspired by a science video, or a story of a woman at mid-life, or helped by community minded therapists? Who feels more connected by stories of our the community?  Who will get a home repaired, better access to health care, help with taxes, domestic abuse or discover a local nonprofit committed to a better community for all. Some may even make a life changing connection because of something they have seen on citizen-made community-oriented television? I know I have.
who else will Choose to join?
To keep this hyper-local experiment in democracy, Community TV , going it takes a few others to be committed along with me to this idea of exploring, creating and informing in the public interest. However, I am keenly aware that if I did not show up each day this experiment would not be all it can be and that choosing each day to 'be present' is good; but still not enough.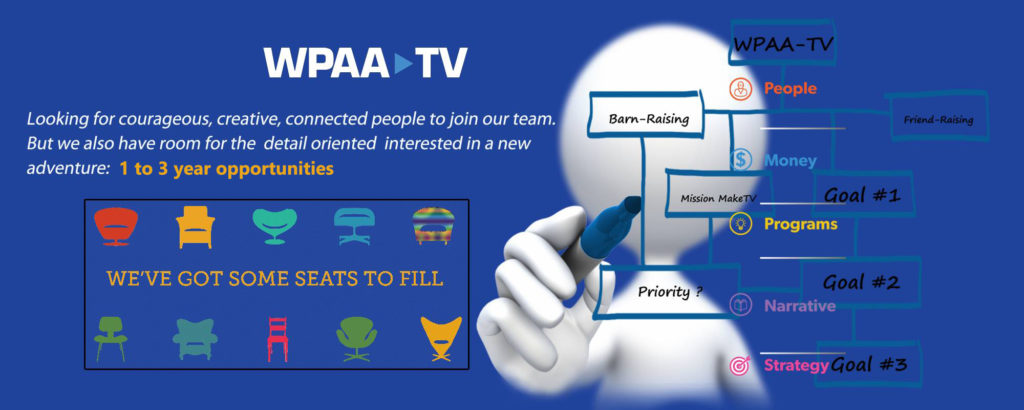 Fifty Thousand Dollars
When I made this post I was feeling with intensity that we may have lost 365 days of closeness to the goal to be mortgage-free because of unexpected ghost-like equipment breakdowns. I mused that if I could win a purpose-prize or find some other means to raise $50,000 I would encourage the governance team to check off one strategic goal related to sustainability: To  finalize ownership of the property at 28 So Orchard St. Wallingford CT.
Being debt-free would enable a strategic plan now targeted to start in 2022 to support more programs with modest increases in staff. The hours for that 22 year old could be more than 10 per week and others who may still not have discovered us could become part of a team making informing connection to each other and their community with televised stories. In reality it may not be a whole lot different — except for one thing keeping the doors open  would no longer be depending on me.
I choose daily to serve my community keenly aware that it matters more that community voices are heard and make-a-difference one connection at a time after I am gone.
Susan Adele Huizenga (Volunteer) Executive Director