Post election update: The Mayor Wallingford had in 1993 is still Mayor for 2018-19. Mr. Sullivan no longer has the privilege to serve on the Town Council. New members of the Board of Education may be open to reviewing how to deploy the Ed Channel for the greater good.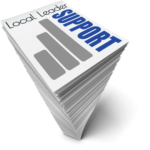 Community TV (P.E.G.) in Wallingford is unlike any other town in CT: Administered in silos, financed inequitably, staffed with decades of expertise. The local 2017 election had the potential of making P.E.G. more relevant, cost-effective and a sustainable resource for non-profits, government and residents.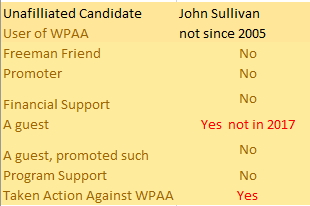 Since elected to Town Council Mr. Sullivan had the lowest engagement with WPAA -TV of the council members serving at the onset of the election. Ironic since Mr. Sullivan was a formerly a WPAA-TV Board member. He served for several years prior to the implementation of ATT Uverse (now Frontier). While on the Board he used the resources of WPAA to host several variations of John Sullivan shows. He bashed WPAA's potential to acquire and renovate downtown space (2008). He actively blocked opportunities to discuss regional funding sunset provisions (2012) that continues to send $20,000 annually of cable fees (WPAA-TV funding source) to other towns. He has engaged in other unsavory things like publicly stating current volunteers are "profiting" off the enterprise. This candidate has the most knowledge about the challenges and potential of the resource, yet he chooses to go beyond remaining neutral to being an obstacle for WPAA's growth & sustainability. As a WPAA Board member was it his duty to make WPAA resources available to the community?  Conflict of Interest Policies are now in place for producers servicing as Board Members.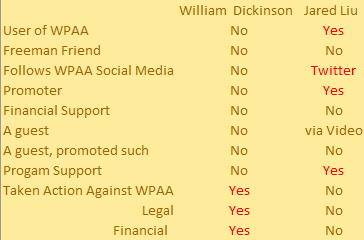 Local leadership has the leverage to do harm or improve community resources. In 1993 when the current Mayor took action to split P.E.G; subsequently the Mayor has taken regulatory or legal action against WPAA-TV on several occasions.
In 2015, outraged over our public art program because it had graffiti elements he disabled the use of a mural in the Wallingford Health Initiative Program. In 2016 he ranted against WPAA in a discussion of government TV being on YouTube for transparency. Old but challenging stories continue to impede cost-effective collaborative of P.E.G. services. A deeper look at "G" the town's government TV operation can be revealing. The WGTV location is coveted space that might have better community use than being a studio 5 times a month. WGTV is taxpayer-funded at a rate higher than any other CT town except GrotonTV while providing significantly less services. Ironically, Groton is a library-based Municipal Channel similar to what Wallingford was before 1993.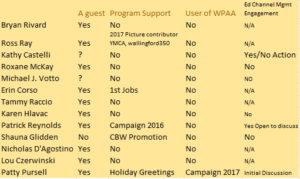 The Education Channel is described as "ostensibly not functioning" by school staff in the know. Should the Education Channel be the life-long learning resource intended; or can we engage in regulatory conversations to have the cable company buy the channel back and reinvest revenues in local services?
WPAA-TV has moderate support across party lines, however, active promotion and use this election season was only by new candidates for office. We are certain that new leadership at the top will remove the stigma of working with us by members of both parties.