The landscape of Cable TV is changing constantly. Entertainment services are piggybacking on the cable infrastructure. Consumers are cord‐cutting. There is a growing interest in video content and a vast array of points of distribution. And most recently for Public, Education, and Government TV (P.E.G.), there is a reinterpretation by the FCC of Federal Law that allows for (does not mandate) P.E.G. within local rights-of-way contracting.
What just happened?
Cable companies want to lower their direct costs and simplify their obligations. In the Fall of 2018, a docket about the "implementation of cable act" (stakeholder roles and financial obligations) was put on the Federal Communication Commission's (FCC) agenda.  A year later after testimony from business, community advocates, cable TV viewers, and legislators an Order was published in the Federal Register. Within it, is a framework of what are allowable fees & services and subsequent roles & responsibilities in the overall funding of Community Media. The intent of the existing decades-old Cable Act was deciphered and tweaked with an accountant's point-of-view and set forth in lawyer language.
The effective date of the FCC order is Sept. 27th, 2019. The impact takes effective in 2020 as there are 120 days designated to resolve interpretations and administrative changes associated with related change orders that are both cable company and franchise-specific interpretations of the FCC Order.
Notably, throughout the order are phrases like:
Nothing in this proceeding disturbs the Commission's longstanding view that PEG programming serves an important role in local communities.
There are many unknowns especially in CT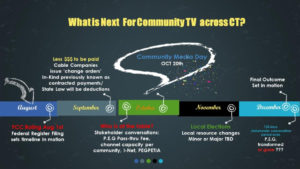 Connecticut is unlike most implementations of the 1984 Federal Cable Act across the nation. CT transitioned to state oversight in 1995. This act codified P.E.G operations as available in every community. What did cable companies negotiate for in 1995? In subsequent laws that applied additional assessments on the industry what were the wins and loses?  Unraveling the implications of the current order is complex. Language in 2008 cable docket industry responses [ PURA Docket 07-10-11] foreshadow remarks like "illegal" by "bad actors" in FCC Commissioner remarks. * Therefore, it is critical to understand both sides: What value cable companies got in past negotiations when the financial arrangements in Connecticut changed from local communities negotiating directly with cable companies for up to 5% Gross Receipts per franchise area;  and,  is community media deployed effectively with allocated monies and mix of channel capacity?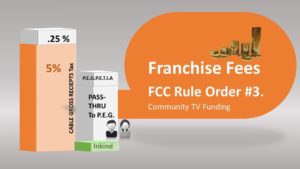 There are several data sources that need to be identified, isolated and analyzed to thoroughly understand the implications of the FCC order. Some data is not publicly accessible such as cable subscriber data reported by companies as proprietary.  Other data like revenue allocations may not be discreet enough. Pass-thru totals to nonprofits are buried in Annual Report Budgets as grant items. Some reports are not filed. There are a variety of financial add-ons that may be identified as subject to the cap such as the cable/video tax credit paid into the Public Utility Control fund for the operation of PURA & OCC (CGS 16-49), advisory council stipends and more.
Complicated since birth:  Ideals and Value
Innovation was fostering new ways to connect the nation (1934). There was and remains a need for public safety and the presumption of a federal role herein. Concurrent with innovations in telecommunications, grew nonpartisan advocacy for free speech with a 'build it and they will come' or 'if we had the tools we could represent ourselves' drum beat. Holders of points-of-view that were not centric wanted an equitable platform for dissemination of ideas and enterprises like cable TV needed access to public rights of way.
Since the inception of the FCC, the Act enabling its creation has been updated periodically.  The FCC interprets the law. There remains divergent opinion in the interpretation of mandates, allowable, costs and capacity.
Moving the needle on civic engagement
The bedrock vision of this experiment in democracy is rooted in "the right of the public to receive suitable access to social, political, esthetic, moral, and other ideas and experiences" circa 1969. This right was scaffolding for what communities implemented differently with cable company negotiations and local needs assessments.
Some constants are:  "Citizens of diverse values and views have equitable access to tools & stage for noncommercial purposes". Content is of local or individual interest. The audience is likely to be 'narrow'.  Access to tools & stage enables creativity, fosters learning, and supports community engagement and a belief that when community dialogue becomes actionable the results are often a more vibrant, healthier community.
Clear Outcome on the Citizen's Role: It is Twofold
What is required is a community of 'content makers' and 'underwriters'. As long as citizens are willing to maintain and operate facilities for content creation cable companies are obligated to underwrite the infrastructure (i.e. capital investment). A camera is bought with money from the cable company. How to use it and where to keep it is handled by the local community (underwritten) and any citizen can use it to make cable TV content (user).
The refreshed interpretation by the FCC is very directly tied to the bravado of early advocates that wanted no interference in what they wanted to say and full control of resources they would have paid for by the cable companies. I am not sure if it was naivety or a concession but the reality is sustaining these discreet roles for citizens' empowerment needs an infrastructure. Between 1984 and today needs assessments and franchise agreements included provisions for the underwriting of operations and training costs with cable fees to effectively use the capital investments. A community media industry evolved to keep abreast of tools, provide training and evolve mechanisms to support a diverse community of voices.
Narrowcasting: Who produces, who listens?
To be continued…
* Proceedings begin approx. 2 hrs 26 minutes on FCC Hearing Video