The On The Parade Ground Volunteer Team producing Community TV has 3 more shows in development. Informing conversations will begin Live Mondays with host Paul Braccioforte at 7:30 PM. Viewer call-ins begin at 7:45 PM (203) 265-6310. Participate.
May 3rd our four guests will share the latest about Relay for Life – how Wallingford participates in an international movement to end cancer. Surviving is making a difference for others.
May 10th representatives of the Gaylord Stroke Survivor Support Group will share how education on stroke prevention is part of what they do as they extend a helping hand to each other.
May 17th local Rotarians, members of the International Service Organization, are preparing to golf to raise funds for local causes. We caught up with some members at the Master's Manna Grand Opening and will hear about what makes a Rotarian tick.
On The Parade Ground is on Comcast Cable 18, U-verse 99 WPAA Community Building TV and internet streaming on www.wpaa.tv
Replays Schedule-
Monday 9:30-10:00 PM
Tuesday: 7:30-8PM
Wednesday: 1:30-2PM
Friday: 4:30-5PM
Saturday: 5-5:30PM
Sunday: 11-11:30AM
We are looking forward to doing stories about Wallingford farms in August. In pursuit of these stories, we already met some 4-H members at the Williams Farm. We captured some pic. B – O- V- I – N- E (yes they were filling out forms)
Contact us at ontheparadeground@gmail.com with story ideas or comments.
Keep informed at http://ontheparadeground.blogspot.com/
~~~
Relay for Life is happening next weekend (May 21-22) so we reran their show last week and have added 3 showings to the schedule: Tuesday at 7:30, Thursday at 8:30 and Friday at 4:00. More information on the event: go here.
Some of the OnTheParadeGround crew will be stopping by the evening of May 21st after the Fireworks Dinner and before more renovation work Saturday morning at 28 So. Orchard on the new home for www.wpaa.tv.
Last week's program featuring the facilitators of the Stroke Support Group at Gaylord is scheduled to play Wednesday at 1:30 and Saturday at 5:30. More showings will be planned for June and throughout the year to let folks know that Gaylord Hospital does provide support groups for the community, at no charge.
This week we learn about what it means to be a Rotarian. The pictures suggest teamwork in the service of others. Join us live May 17th at 7:30 On The Parade Ground. Join us by phone at 203-265-6310.
May 18th Update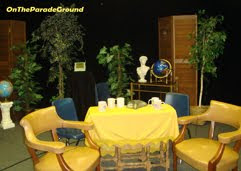 Our first Make a Difference in the Service of Others Series has concluded.
One post-edit remains to be done (went out in the rain at lunchtime to get a B-roll image). A few small PSAs still to be designed. And then there is the coordination of web viewable downloads with wpaa.tv once there is a policy adopted.
Each 30-minute program had a pre-production investment averaging 15 hours, 3 -4 community crew members doing set up Sunday for one to two hours depending on what condition we found the studio in, the shoot 4-5 crew with 1 to 2 hours, then playback support & scheduling another concluding at 9:30 pm. Post-production of the final replay copy another 3-5 hours. So not counting the investment in the product made by the guest the investment is at least 1 hour per minute. Web prep is even more investment.