Wallace Dam Fishway: Harry Haakonsen Dedication Video is complete.  I did not editorialize but I did edit the material presenting the nearly 2-hour event in 30 minutes, with a slight restructuring of the sequence of events.  I did give the project slightly more than one hour per minute of production attention.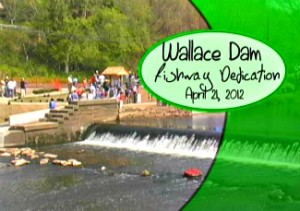 I enjoyed creating the lower thirds shad tag and I leveraged several web page mastheads.
It was a refreshing event to attend. I know that there were years of effort to get Town's cooperation for which there was ample credit bestowed and ironically, accepted. In reality, it was informing but agonizing to watch each new Town Council get briefed on the project's value and to hear the same concerns about liability raised.
In the end, there are many proud volunteers and hope for an easier future for the several varieties of fish that swim home.  For this cause, I am not wearing the T-Shirt but it was rewarding to help tell the story via coverage of this Earth Day event.  Search Wallace Damn on the wpaa.tv calendar for playtimes between 4/25/12 and 5/20/12.  On VOD look for Wallace Dam Fishway Dedication.