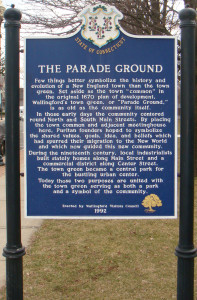 The original blog was designed to develop and support the concept of a community video crew to be called OnTheParadeGround.
The name evolved from efforts to procure property 'literally' On the Parade Ground in Wallingford CT for the Community TV Station. Since The Parade Ground remains a gathering place of residents for community events for this team-to-be it is a symbol of a place where people can give voice to ideas, share news and inform others.
Creation of timely local content requires a community of volunteers.  The station's Board Members and staff are not Producers or content creators. Like all residents they can independently produce but the role of staff is to train, facilitate and mentor those seeking to develop digital media skills and use these skills to share information and stories or entertain. Content for Community TV must be made, or acquired, by community members.
We have the tools, but without you there are no news stories, coverage of local events or archival history being made.