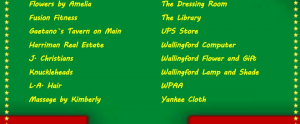 In so many public announcements done by others like this one in Wallingford Wired this organization is listed merely as "WPAA". However, for more than 5 years our communication has been in the name of WPAA-TV and Media Center and most recently the Board of Directors voted to clarify the doing business as (d/b/a) name as WPAA-TV and Community Media Center.

Our building signage appears as WPAA-TV. Those who have wandered in have been curious about the "TV" part of the name. The initial question from the new visitor is either "Do you fix TVs here? or "Is this a real TV station? (and, with some hesitation) Can I be on TV?" We are always proud to answer; If you live in Wallingford this TV Station WPAA-TV belongs to you. Do you have time to look around?
Two aspects of our name are important: TV and Community. We support the creation of TV by and for the "community" as the primary mission of the nonprofit Wallingford Public Access Association, Inc.