In the sharing, and promoting the sharing, of A thorny Journey Blooms in Story in the #MyGivingStory contest funded by the Bill & Melinda Gates Foundation in partnership with Unleash Global Good LLC (dba GivingTuesday) there was much personal discovery. The premise of #MyGivingStory follows:
By sharing our stories, we can inspire others to give.
Reading the stories
There were over 2,600 submissions. I read about 25. I scanned several hundred. I encouraged others to randomly read them. The pattern I noticed in these giving stories is that they are often rooted in personal tragedy or struggle. Another is that animals seem to by far outrank concerns for fellow humans.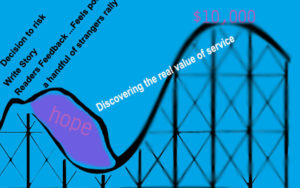 A part of me would love to do a qualitative analysis of this data to learn more about the inspiration to give and the true ranking of relevance and value. About a dozen people contacted me directly after reading my story. It was in those moments of connection that this journey did bloom. Most started with "Wow" and continued "Voted! That was great and thank you so much for what you do for our Wallingford community".
About 'community', or maybe, lack thereof
Stories can change hearts. Networks can change systems.
My networks included 700+ LinkedIn, Freeman on FB 1,500+, Community Media Peers 1,000+, Retirees on FB, Community FB Groups 17,000+, Family & Friends. There were at least a few refreshing reconnects within each network, some new community connections and as always my son and his friends were the most generous and uplifting. The process reinforced that connections are one person at a time and those you know well enough to hug are the ones that can be counted on in real and virtual worlds.
For the record: I did write to local influencers to ask for their support in this effort to win $10,000. Subject line: "Let us do this Get out the Vote together". The lack of response makes me even more committed to 'sunshine' stories'. Truth be told, if I was not the volunteer administrator of the organization tagged to get the prospective win, I would be producing such stories. Every community has them, maybe mine more than most.
What was missing when people made the effort to support was the "connecting" story. The relevance. One share did touch my heart: Support WPAA and Community Media Center!! What an amazing community that supports musicians, actors, activists, and curious citizens like me. A few comments affirmed the story had been read "Please take a moment to read Susan's inspiring and poignant essay."
Promoting the story

❤️

?

❤️

?

❤️

?

❤️

?

?

?

 Vote 

?

 Share 

?
What does it take to be an award-winning community TV station? Volunteers that believe in supporting their community with media, arts, story and saving an in-town building.

$10,000 for Wallingford for less than a minute of your time. If 1,000 Wallingford people give a minute a day until Dec 10th to VOTE to support #WPAATV it will add 150 hours to this gift of community in service to each other AND increase our chances to win $10,000 to do more.

If you do not know about #wpaatv There is an article in the current issue of The Wallingford Magazine ❤️?
Lessons re-learned
Engagement is one person at a time.
You can change a person's life but that does not create a relationship.
Stories without an audience are just an archive.
When people do not know it is a gift, they will likely behave as if they are entitled.
With the humor of "Who gives a crap" you can more effectively "give a crap"
Journeying with others fosters connection, which will ultimately do more good
I am now 66 years old. The hours given to community service total 20-years. That definitely speaks to a lifestyle. But the 20+ extra pounds the last seven years of full-time service to Wallingford at #wpaatv may be more relevant. This journey has given me a measure of Wallingford as a whole that I needed to put some balance back into my life.
"What would you be doing, if not doing this?" is coming into better focus. A new connection asked me this very question during this story journey and it gave me pause.
Pause. That may be my gift to me. To be honest I may have been looking for justification for this very thing.