Our last video of the year, Rudolph's Shiny New Year, by Emma Richardson, is a gift upon a gift to our community.
If you have had a tour of WPAA-TV, you may have noticed the posting: We have art, ghosts, penguins, a tiger, and the stories you tell. You might hear that serendipity is ever-present in What We Do Together, the theme of last year's nationally award-winning video annual report. Our year-end good fortune is how the very last story produced for us incorporates all the 3-Minute Movie Challenge criteria – a Wallingford person, a place, and/or a thing. It is an uplifting story of starting again. It is a retelling of a clever story about the opportunity each New Year brings. It is a story of sixteen years of delighting neighbors. It is a story about a farmer, whimsy and a street corner near one of the town's highway entry points.
We are eager to share the charming, short film Rudolph's Shiny New Year, by Emma Richardson, and the projects that gave it birth. It will be released on social media on January 5, 2020 at the end of the 3-Minute Movie Challenge video contest. Emma's submission represents exactly what the video contest is about: discovering the characters and characteristics of our town in video stories.
Sneak peek: You might see Rudolph's Shiny New Year if you are watching television today on Comcast 18/1070 in Wallingford or Frontier 6091 in Connecticut, because we want this video to qualify for festivals accepting entries based on the 2019 calendar year.
Emma Richardson discovered community TV a decade ago with her family. They shared the story about the creation of the BAWA Health Initiative (BHI) in Cameroon, West Africa with On The Parade Ground viewers. In this conversation, the family spoke of learning how the annual cost of a family cat invested in a village could change, even save lives. Their dinner guest, soon to be BHI co-founder, Blaise Donji, inspired the project embraced by the First Congregational Church of Wallingford and other producers of content for WPAA-TV. The #theAfricanDream interview of Blaise Donji, conducted in studioW a few years later, remains a video story on the organization's about us page on www.bawahealth.org.
Emma was eleven at the time of the On The Parade Ground interview. When I noticed she had gone on to study Film, Television & Media Arts at Quinnipiac University, I sent her a text about our movie challenge. She was hesitant to commit, but by the end of the exchange, she agreed to reach out to a local farmer I had failed to get on camera a few times.
As of this writing no other filmmakers have registered in the Take Three edition of the contest. We did have workshop opportunities. One local family attended. They seemed excited to discover us but the holidays became too busy for them to make a movie. There is a rumor that a first-time filmmaker and workshop attendee is capturing video footage today. There is still time for moviemakers in this 3-Minute Movie |Take Three| 2019, as well as in the Take One, Take Two and Take Three opportunities each year.
As we gather to welcome Baby New Year 2020, let us remember it is one person and one story at a time that can change hearts. I know that Rudolph's Shiny New Year has just that kind of potential. This Wallingford person, place or thing story is a gift upon a gift to this community.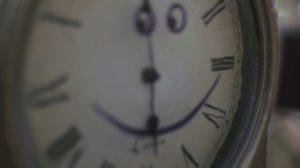 Truth Be Told is the theme of our 2019 annual video report currently in production. Truth be told, as WPAA-TV Executive Director, I tell myself one great story will be enough to change the tide of community interest in the movie challenges as well as what we do overall which is provide a safe place for the expression of ideas. Truth be told, I needed the delightful Rudolph's Shiny New Year message about the potential of our continuing anew each year.
P.S.  Over 3,500 people viewed the Rudolph's Shiny New Year on social media and nearly 100 people commented about their appreciation of the creativity on display at the street corner near Christmas time. Rudolph's Shiny New Year won the Alliance for Community Media xxx for 2019.