Our last video of the year "Rudolph's Shiny New Year"  by Emma Richardson is a gift upon a gift to this community.
As WPAA-TV Executive Director, I tell myself one great story is enough – Truth Be Told, it will be if the community embraces our last video story of the year.
If you have gotten a tour of WPAA-TV you may have noticed the posting: we have art, ghosts, penguins, a tiger and the stories you tell. You might hear that serendipity is ever-present in 'what we do together.'  The serendipity herein is that the very last story produced for WPAA-TV this year is about, starting again. It is a clever story about the opportunity a New Year brings.
To be released Jan 5th 2020 on Social Media
In our gathering of stories project 3-Minute Movies, stories about a Wallingford person, place or thing; we get it all with the Take Three 2019 submission by Emma Richardson. We are eager to share this charming short film and the project that gave it birth.
Emma's submission represents exactly what the 3-minute movie project is about.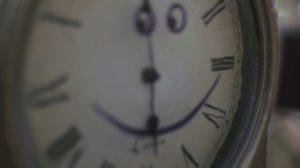 We will release it on Jan 5th at the end of the contest. But there is still time for other stories to be submitted so you must wait unless you catch it on TV today.
Truth Be Told at this writing no other filmmakers have registered in the contest. We did have a workshop opportunities. One local family attended. They seemed excited to discover us but the holidays got too busy for them to make-a-movie. There is a rumor that a first-time film-maker and workshop attendee is capturing video footage today. So there is still time movie-makers, and three opportunities a year.
Truth Be Told is the theme of our Annual Video Report (currently in production). Embedded in our mission is that we are a safe place for the expression of ideas, commentary, and transparency. But are we? Yes, for those who participate, we are. Hopefully, the story clips in the report will express once again the potential of our continuing each year, anew.
As we gather to welcome, Baby New Year, let us remember it is one person and one story at a time that can change hearts. We know that Rudolph's Shiny New Year has just that kind of potential.