By Garrett Amill
The most important part of government can be smaller than you think. Local politics often have just as much of an impact on life in a town as state politics do, or even federal. There can be a dearth of information about local politics, however.
Citizen Mike acts to fill a gap in Wallingford, providing a place for debate and discussion of goings-on in the government of Wallingford and beyond. Citizen Mike hosts government officials and employees. The show also features people with opinions on aspects of the town, like a teacher to talk about Wallingford schools.
Besides providing a service, the show is compelling to listen to. Much of that comes from the skill of host Mike Brodinsky. Brodinsky has an understated charm to him. He could easily be the center of attention on the show, but instead, he lets the guests shine.
Brodinsky asks questions well, getting the information from guests that he knows listeners will want. At the same time, he keeps the guests from rambling too much. Brodinsky also has a good knowledge of what will get too technical for the audience. He asks guests to clarify what they mean whenever they use jargon or reference things the audience won't know.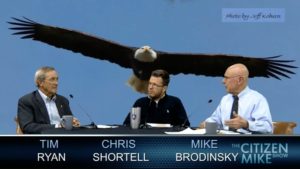 Citizen Mike is a very timely show. It's been the first source for information on newly announced decisions in the past. This makes listening to older episodes less ideal, since they can be about old news. However, some of the show's episodes have a longer shelf life.
Citizen Mike provides a service to the town of Wallingford while being interesting to watch. It functions as a fascinating local political news show.