More people in town know about the two-story tiger mural painted by #ARCY on our South Orchard St. building across from Center St. Cemetery, than what actually belongs to them, inside. WPAA-TV is inside.

It is one of the Town of Wallingford's three local television stations, the one operated by volunteers for use by the community. Volunteers started an adaptive renovation of a 1924 cow barn in 2010 creating a welcoming public space. The barn's former hayloft is now studioW, a versatile performance and media space
Some residents remember surfing TV channels and stumbling upon WPAA Cable 18. Recognizing someone from town while channel surfing was the second most likely way anyone became a public access TV viewer. The first way is being told by an enthusiastic friend to "watch me" on TV.
Comcast Cable subscribers living in Wallingford watch on channel 18 or 1070 and Frontier's channel is 6091 viewable from anywhere in CT. The Internet, via the website wpaa.tv, is the third way to watch anytime 24×7.
As the television and Internet landscape changed, so has awareness of Public, Education and Government Access (PEG) which started here in 1975. In 1993, the nonprofit Wallingford Public Access Association, Inc. (WPAA) was formed. Founding members coined the phrase 'Your Town, Your Station.' This adventure in #FreeSpeech and democracy is now called Community TV. A word or phrase preceded by a pound sign (#) is used on social media websites to discover related topics on the Internet. #YourTownYourStationYourVoice is now one of our hashtags.
2013 was the first time the organization had full-time staff, albeit volunteer, increasing its capacity and use 500%. Then, for an unprecedented two years in a row, 2014-15, the station won the Alliance for Community Media North East Overall Excellence Award for the work of its volunteers and citizen producers for "What We Do Together." Striving to thrive, WPAA-TV introduced more predictable scheduling, simpler access to the tools and stage, and expanded ways not only for citizens to contribute but for local organizations to collaborate. These innovations and the #CelebrateWallingfordEveryday spirit yielded the award 'Best in the USA' for media centers with budgets of $300,000 or less. WPAA-TV's budget is approximately $80,000 annually. Cable subscribers contribute about $6 annually via their cable bills.
The organization's purpose and tools and stage for making TV is still mostly unknown here in town. The volunteer Executive Director, Susan Huizenga, maintains it is still common for people coming through the doors for the first time to say, "I did not know this was here," or, "If this were here when I was growing up …" Unfortunately, what we do is literally tied to whoever does walk in the door. As the Wallingford Public Library suggests that their doors are open to endless possibilities, we remain eager to do the same.
One of the ways we connect with our nonprofit peers is to align our programming with their missions and goals. In our #GoodEnough2Share program, the library represents shows about books and authors. These shows are produced elsewhere. The show Book Lust hosted by best-selling author, librarian, and literary critic Nancy Pearl comes from the Seattle Channel. It can be viewed on WPAA-TV Sunday at 11:30 AM, Wednesday at 11:30 PM, and Thursday at 8:30 PM. On Thursday, Book Lust follows our very own LIVE independent wrestling talk show, Center Ring. Hosted by 'Fogman' and produced by our former Mission Continues Fellow Bruce Haag, Center Ring now has a global following and is in its 22nd year of production.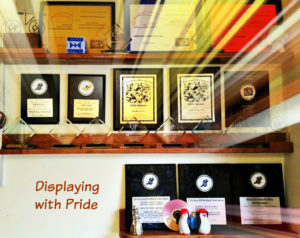 In October 2019, six local producers won Alliance for Community Media Nor'Easter Awards. These producers are among the participants in our make TV program #BeTheMedia. Local filmmaker, Sal DelGreco, took 1st place for Episode #3 of The Sparrow Falling in the category Arts & Drama. This 180-day, 80-person cast and crew project was filmed in studioW in 2017. Other winners included Georgian Lussier for her in-depth interview with holocaust survivor Judith Altmann, who is now 95 years old. In 2016, Georgian won the prestigious Rika Welsh Community Impact Award for her outstanding series MidLife Matters about midlife women's wisdom and wit. The youngest winner, age 5, is AyLiz Boran, host of Creation Station. AyLiz discovered WPAA-TV during the annual Community Media Day, the third Saturday in October. She made Halloween video messages with other children she met that day and decided to continue sharing what she knows about crafting.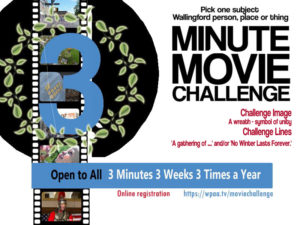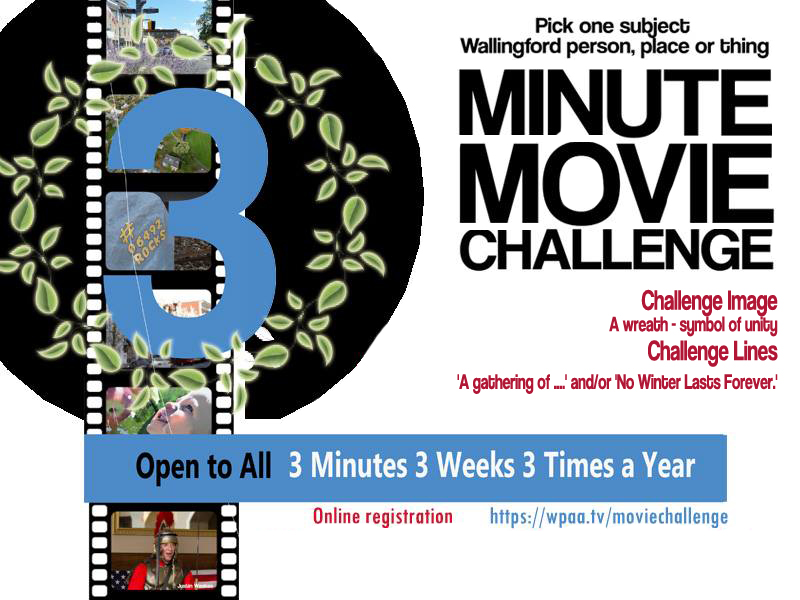 Her mother, Alyssa Boran, owner of Catalyst Art Studio made a three-minute movie about painting the downtown fire hydrants. Alyssa was later interviewed on MakingIt Artisan $tories.
#3Minute Movie is a 3 times a year, 3-week video challenge hosted by WPAA-TV. The movie-makers must create a video about a Wallingford person, place or thing that includes the challenge line and image. The holiday edition is open from December 15 to January 5. Check out the wpaa.tv website for more details about this all-ages opportunity.
Another award winner was Music with Purpose.

Now in its 4th year, this performance/talk show is also a live audience experience. Guests are treated to refreshments and listen to local original music on the 2nd Tuesday of the month from 6:30 PM to 8:00 PM. As with all #wpaatv #BetheMedia experiences there is no charge. Producer, Lisa Catherine, has elicited the generosity of local businesses and musicians to create this cozy entertainment experience right here in town.
Innovative programs such as CommUnity Conversations have also been recognized. The show features a conversation between any two people about diverse topics. A winning episode was "My Neighbor is Muslim," a story about a differently shared experience. We have received positive viewer feedback about this series as well as HumanKindBoth facilitated by Chaplin Miyan Zahir Muhammad Mannan. It is a program with five strangers sitting around a table discussing current topics.
Hopefully, both shows will return in 2020 if funds or volunteer crew are available. As stated by volunteer crew member, Tom Oh, "WPAA-TV fosters inspiration, and facilitates growth for all, from those on set, behind the camera and in the viewing community; we become a bit more learned, connected via every aspect of the experience of making TV."



Our contribution to Educational Access is scheduling Life Long Learning content which begins at 5:00 AM. Science, Technology, Engineering, Arts/History, Mathematic, and Experimental Civics (#STEaMc) TV is the #wpaatv independent contribution to Wallingford as a STEM town. Curated content produced by a variety of sources including the National Science Foundation, UC Berkley, Deutsche Welle and Women in Technology Series of The Kamla Show make every day watching a learning experience.
Some #GoodEnough2Share global news content is mingled with Life Long Learning programs. Midday, six days a week from 11 AM to 1 PM, the TV schedule features the collaboration #In2Languages #En2idiomas. This language literacy initiative has stories about the world, technology, health, and the arts, produced by Deutsche Welle in Germany. It is scheduled as follows: English followed by the Spanish version of the same content. At noon, news in Spanish is followed at 12:30 PM by the same content in English. Therefore, content is in Spanish from 11:30 AM to 12:30 PM.
These programs may be discontinued in June 2020 due to lack of funding. Because community contributions are needed to sustain all programs, donations received during the annual #theGreatGive hosted by the Community Foundation of Greater New Haven are most welcome.
In 2017, the WPAA-TV Board of Directors affirmed a strategic plan to be called #MoreThanTV. The plan emphasizes the gathering of people, stories and donations for our work. As part of #MoreThanTV, the rotating gallery in the community room has become a permanent #SocialActionArt exhibit. It features StreetshotZ photographs by Wallingford resident Charles Buzinsky. The printing and framing was underwritten in large part by FrameItEasy.com and was selected because the theme aligns with the #wpaatv mission to represent and serve underserved voices. The exhibit is free. However, donations such as nonperishable food are encouraged. Masters' Manna Food Pantry receives the majority of the donations. 100% of the proceeds from the StreetshotZ book sales are used to fund programs helping with housing and food insecurity.
#MoreThanTV includes hosting local theater companies. Specifically, Connecticut Compass Theater Company (CCTC) and Backyard Theater Ensemble use studioW to develop their ensembles and rehearse for performances to be staged in larger venues. CCTC provides skills training and improv experiences for members of the community, free of charge.
As part of the plan #MoreThanTV, WPAA-TV and Community Media Center has become a training location. Participants in High School Community Service, Summer Work for Youth and college interns have explored media here. There are also opportunities for scouts to earn merit badges, teens to gather after school, and civic groups to meet. If interested in using the space send an email to reserve@wpaa.tv
You can become part of this community-building experience as a follower of #wpaatv on Facebook and Instagram or as a friend of our mascot, Freeman P. Quinn, 1st, who is our Free Speech Ambassador on Facebook and Twitter. Freeman's friends receive affirming graphic messages for life's milestones designed by comic book artist Sal DelGreco.
Discover more about our story with our hashtags and help to make our story your story too. #AnyoneCanBeFreeman #NowMoreThanEver we want you to be part of our story.
Remember when you come to take a selfie with Hercules the tiger, come in and say hello and stay to see the gallery.