… bubbly, bubbly, bubbly. What a relief it is.
It was a good day for a few unanticipated reasons. Another volunteer, Kay, agreed to handle the kindness aspects of our daily social media presence, the public face and outreach for WPAA-TV in the persona of Freeman Penny Quinn, 1st, Free Speech Ambassador. It was not pure altruism. Being a highly valued volunteer—compensated, but not at market rates—would net her $1250 for the year. Optimistically, we would, in due time, see a return on our virtual kindness investment with a commitment from grassroots donors. With over 1500 Freeman friends there are more than a few birthdays, anniversaries and life's milestones to acknowledge each day. We have a few contributors who cover this investment in Freeman's indirect appeal to the hearts of his followers to enchant future followers.
There are approximately 18,000 cable subscription-based households in Wallingford. Four thousand households contributing $1 a month would be life-changing for us. We would like to think this a reasonable goal. Our committed community reach is light years away from this critical benchmark needed for meaningful—in a connected to our mission sort of way—engagement.
When Freeman reached 500 friends Exceeding my dozen on social media, friends management began to add mileage to my already overstretched self. Every nonprofit administrator I know has been overwhelmed by the need to engage on this new front: social media. For many administrators, Pages and Groups often go unattended for days or weeks. I committed to daily interpersonal engagement. To augment Freeman's milestone messages, I initially co-opted a delightful free blue bird emoticon, #FacebookSticker, Mrs. Rose Bird, designed by Joey Ellis—it was blue and a bird—conceptually on target.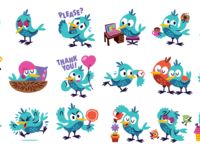 Sketches of a birthday cake and candle to blow out, two love birds, celebration of wins, sadness, brokenness, frustration, perspiring wellness, running late with a big watch on the wing, DIYness with a toolkit, a shake it off attitude, or stop right there sign and some key phrases like 'Hi!', 'Please?' and 'Thank you!' made the work with images spot on. But as right as Joey's Mrs. Rose Bird was, she was off-brand. I decided to contract with a local comic book artist to sketch our ambassador of free speech for the growing opportunities for virtual kindness.
Freeman was already a decade old when s/he became a brand emoticon. The Freeman sketches, according to design specifications, were to look like the costumed mascot that had attended community events since 2008, and similar to how Mrs. Rose Bird handled life's milestones: birthdays, sadness, illness, love and various reasons to kick up one's Webbed heels. The artist was another highly valued volunteer—compensated, less than market rates—but after five fifty-dollar sketches taking longer than the contract suggested, it was time for me to Photoshop the bird. Freeman, with a speech bubble encouraging the receiver to "enjoy the next trip around the sun," has been the most common act of outreach kindness. With theme-based Photoshop enhancements, an array of congratulation images were designed for graduations, sports achievements, retirement, new car, new home, new driver, beating cancer and welcomes for additions to the family including newborns or other family special additions such as adoptions, pets and grandchildren.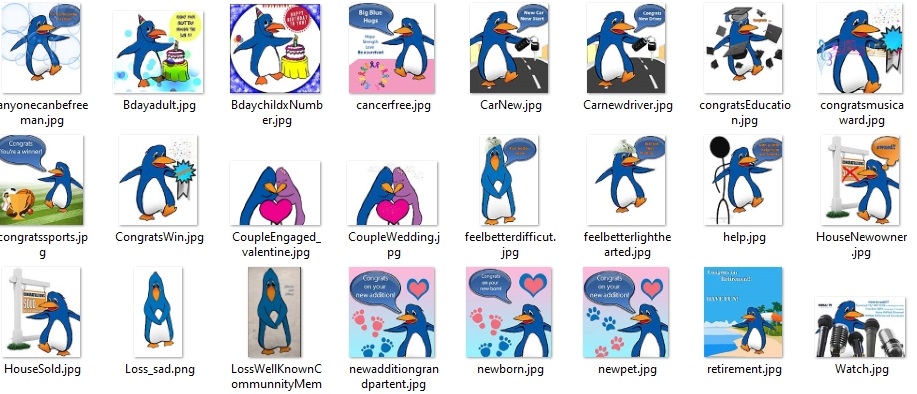 Facebook shows which friend's birthdays are happening today, yesterday and tomorrow. The Freeman's friend birthday list is how the work day starts. This handful of posts feeds the algorithms. Later, Freeman check-ins yield the next layer of algorithm induced engagement—friends' posts about family too young or too feeble for Facebook or wise enough to not to be on it—folks having life's milestones who will make up the next round of Freeman well wishes To grow household awareness of Freeman.
Freeman, the persona entity, is a shared login. This means we must have a consensus or policy on branding, style and copywriting, schedules and targets, and cross-posting including video guidelines. These evolve, as all things technological, more rapidly than what we can keep up with. In 2020, Pages can now post on Groups. If that posting option were available in 2015, the Freeman persona may not have been created. The Freeman existence is a breach of Facebook policy. It was suggested by several millennial teachers who found they needed a pseudo identity to have their personal or adult life exist on social media. For me, or so I thought, it was just adding to the long list of my other names I am not Freeman per say #AnybodyCanBeFreeman.
There is much more to communication in stories and on media timeline on behalf of the community to the community. To achieve outreach results, the volunteers behind Freeman must check in a few times a day. Social media consumption and interactivity is consuming regardless of how many productivity tricks like cross-posting are deployed. So far we have found that the key to our goal of being interpersonal seems to be three five-minute logins daily for kindness. Friend familiarity is important Sadly, friends can live on Facebook beyond their earthly years.
The Origin Story
By now I hope you are wondering what does a penguin, a blue bird affiliated with oceans in Asia, have to do with Wallingford. There are a few stories that preceded the one where a board member finds himself making snide remarks about the silly No, he said stupid and horrible Freeman sketches to the artist that was often at the station, not realizing he was talking to the artist who indeed had nailed the design assignment Oops.
The story of the blue bird begins with my stepdaughter, Heather, several wire hangers, masking tape, glue, five-yards of plush blue fabric, a bolt of white felt, and a yard of yellow. I did not inquire, merely watched the transformation happening as the family assembled during the evening news. There were some vestiges of the Cronkite era with the gathering even though the family had likely not sat together for dinner. Typically, the kids caught up with the events of their dad's day, took a moment for anything that the news had to offer that was attention grabbing and dispersed by the time sports commentary began. For a few weeks the hangers and masking tape were part of this intersection in our lives. Eventually, the creation was obviously a head of a blue creature Nothing scary. Once the crafting began to take form, there was a clear opening for my inquiry, "So, what is that going to be?"
'So' is a 'let me catch my thoughts' word I edit out of videos every day. Its absence strengthens productions by suggesting the speaker is in command of the subject matter or interview. The listening experience is enhanced as is the perception of the speaker. This absence is good. Sometimes it can take several hours to enhance a video product by removing these anomalies to suggest a presenter's cohesiveness in speech. Often this investment in making a project cohesive and succinct is missing in Community TV. Much of the content is raw interpersonal engagement by non-professionals. So, the word I used to open discussion about what was now a head exposed my hesitancy to embark into unfamiliar territory.
"It is Prinny," she replied.
I remained clueless about a fictional race of creatures affiliated with a video role-playing game coming out of Japan. I would eventually come to the following understanding sans all the references to the PlayStation games Words that were Greek to me.
A prinny is a small, usually blue, pouch-wearing penguin-like creature with disproportionately small bat wings. When thrown, they explode on impact. Prinny reincarnation lore has them embodying demon souls of humans who led worthless lives, redeemed by servitude and good deeds. Some storification has them as mascots, and others transform them into heroes. A common trait of prinnies is their upbeat attitude.
Flashback: Community Building 2007
Our prinny goes to ConnectiCon 2007, the comic-con at the Hartford Civic Center. A comic-con, short for comic (book) convention, is where fans of sci-fi, roleplaying games, and of course, comics, congregate in costume with other fans, creators, and experts to do all activities fans engage in from panel discussions to parties. Local attendees of ConnectiCon 2007 are departing and returning to the WPAA's Center St. location, home of the TV show Planet Access, which delves into the same content sphere Other worldly distractions, hooey foolishness, gobbledygook multi-million dollar industries and independent fan-geek entrepreneurs.
That same Friday evening, there was a planning pow-wow at the Center St location with members of the town's Save Main Street movement, WPAA volunteers and myself. Our agenda, "What role, if any, would WPAA play in the next chapter of the turn of the 20th century Queen Anne T-shaped home built by Roger S. Austin, adjacent to the Town Hall. Could this town-owned property, with a destiny again in limbo—Historical Commission lawsuit—be our future home?"
Heather, aka Prinny, returned from ConnectiCon bursting with energy just as the emotionally exhausting discussion about 41 South Main St. was adjourning. During the Save Main Street meeting we agreed to move forward on the building rescue despite concerns about it being three floors and an overarching concern about decades of neglect. We struggled to get consensus on next steps, leadership, and mostly, a strategy for positive visibility.
Maybe out of pure fatigue, several of us saw potential in the prinny positivity. The upbeat prinny was instantly enlisted as our mascot. Heretofore, Prinny was destined for the back of Heather's closet to keep company with Pac-Man and a red leather corseted costume with a saber accessory representing a character whose name I do not recall Or maybe never knew. Prinny's first public appearance would demonstrate that in our haste we neglected to factor in that the volunteer in the costume was the upbeat ingredient.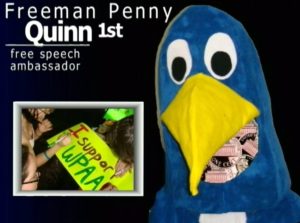 Heather gifted the costume to WPAA and garnered support of her friends to make posters that supporters could hold as they stood aside the prinny. [Save Main Street] [Support Citizen Voices] [I support WPAA]. That was in June. In October, our prinny appeared with Save Main Street people at a Town Council Meeting described as contentious. The after-meeting photos were adorable and subsequently used in the mascot naming contest.

October 24, 2007 American Legion building inching closer to sale?
After a wide-ranging discussion Tuesday night, the Town Council in a contentious party-line vote approved the first steps in a plan to sell the town-owned American Legion building … It was approved by a vote of 5-4, with Democrats in opposition … concerns about parking and … a request for proposals would yield poor results and could be used by the town to argue the building is not marketable and should be demolished.
Unexpectedly, the Town Council Chairman addressed the prinny directly. He said "Blue chicken at the back of the chambers, do you have anything to add? Frozen chicken may have been more accurate. The fluent and conversant Heather was not the volunteer under cover of plush blue prinny this time. The volunteer inside the prinny costume failed to reply. The chairman hit the gavel on the table and that concluded the meeting.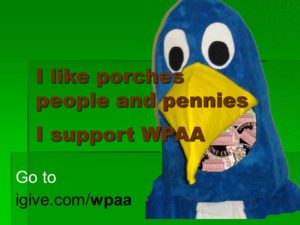 By December, WPAA would be publicly an integral part of the Save Main Street discussion. The governance step preceding that status included adoption of a resolution in October that tied this initiative to our mission.
The board passed a resolution inclusive of these criteria:
WHEREAS, most communities with Community Access are well served by Public & Government Access Television with government underwriting the production costs of Local Government Meetings; and
WHEREAS, the preservation of community buildings is much like preserving community memory; and

WHEREAS, Wallingford Public Access Association, Inc. could build community awareness of its own purpose rooted in the preservation of democratic ideals concurrent with uniting the community in the preservation of its downtown landscape.

THEREFORE BE IT RESOLVED, that Wallingford Public Access Association, Inc. seeks to acquire the American Legion Building adjacent to Town Hall on So. Main Street in Wallingford for its future home in accordance with the procurement process to be designated by the Town Council.
As the appeal to the community for support of our acquisition proceeded, I came to understand that a few of my presumptions were faulty. More importantly, our mascot needed to be more than a charming handshake. Prinny needed to be a brand and 'Blue Chicken' would not do. Prinny needed a name and a voice Other than mine.

From Prinny to Blue Chicken to a Brand
WPAA decided to have a 'Get to know WPAA' event on the Parade Ground in front of 41 South Main St. We were advised that The Parade Ground is considered a town park so we completed the park use application well in advance of our May event. We began designing promotion of our name our blue penguin contest.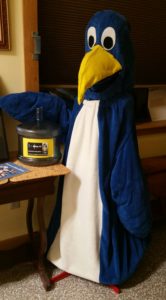 Ultimately, we had our attorney call the Mayor's Office to determine the status of our permit because mysteriously, nothing was allowed to be scheduled to happen in this park without his permission. He was of the opinion that only town sanctioned events were allowable. It turns out this was indeed just his opinion. Nothing restricted Parade Ground use prior to his Mayorship. Quite to the contrary. The Parade Ground had been a place for citizens to assemble without a permit for centuries which was why it was excluded from the park permit process.
It was a lovely day In the neighorhood with a bounce house and a VCR-TV combo playing VHS archive tapes of shows from the 1980s and 1990s. Several name suggestions were put into the collection bucket. Many included some reference to Penny for penguin. A year after the prinny was enlisted as a mascot, s/he was being photographed with eight-year old Jeff who, with the help of his Grandma Freddie, won the naming contest. The blue penguin was reintroduced to the world on Facebook as Freeman Penny Quinn, 1st, Free Speech Ambassador with a birthday equivalent to the WPAA incorporation date.
Freeman, accompanied by Jeff in his blue penguin hat and penguin hand puppet awards designed for the occasion by Heather, became a Facebook persona with a greeting for new friends:
I say to all my new friends: thx for becoming my friend. I want to be the feather that tickles you to service, tells you a best-kept secret, supports your voice being heard, and encourages your informed participation in democracy. This will make sense if you know I am a blue penguin called Freeman P Quinn, 1st Ambassador of Free Speech at Home of Free Speech at WPAA-TV. #wpaatv, #powerfulWildFREE4arts #AnyoneCanBeFreeman #YourTownYourStationYourVoice
Please Follow WPAA-TV and Freeman for community notices and 'what is playing' updates for local TV.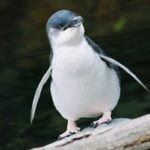 As we made the transition from a prinny to a penguin to be more accessible to a larger community, I realized it might be useful for everyone to know something about blue penguins. What I uncovered was remarkably aligned with how we are as a collection of engaged people.


-Penguins are birds, but they are unable to fly A bit like cablecast and broadcast.
-Each penguin has a unique voice What we preach about people.
-Blue penguins are mainly nocturnal. They perform most of their activity during the night in small groups of ten or less When we are open to for Make TV with small crews.
-Blue penguins are not migratory. They stay close to their colonies most of the time Hyperlocal.
-Blue penguins as a species are not endangered but some populations are threatened Our Wallingford Story so unlike Waterbury or Windsor or Wethersfield or West Hartford.
-Blue penguins perceive their environments through visual, auditory and tactile stimuli It is all about what we see and hear, and ultimately come to feel.
-Blue penguins breed underground but will make use of man-made cavities Our cow barn was dug into a hill and the 1st floor is partially underground and if you have ever seen our sets you know we make use of whatever is at hand.
-Community Birds: Blue penguins move in groups Better together.

Freeman's story much like our own is about adapting to do what we do together in the public interest in media of all kinds with community building giving a beat to the heart With Kindness.
Sharing kindness is definitely easier as a rallying response to a crisis. Communities apply a balm to their collective pain with acts of kindness. These acts echo forth in applause, newsworthy human interest stories, and virtual story sharing and thank you initiatives. They may tumbleweed into viral stories which easily overshadow, in the media amplification, the purity of aha moment intentions.
'Feel Better Soon' was the initial interaction between Freeman and Kay. A prolific user of Facebook, it was a tool in her survival kit as she contended with personal health challenges. The algorithm increased my awareness of her story. She asked for donations of bottles eligible for redemption to help with her uninsured medical bills. I had been routinely giving a large black garbage bag full of returnable bottle to an older Hispanic gentleman who was dumpster diving for discards at the bar next door. I would see him on Sunday mornings. Community TV is a seven days a week adventure. I went to the station to support our Same Day Sunday Initiative that enabled communities of faith to reach the homebound the same day as the service. I did not know his story, just his humility. But knowing Kay's story made me redirect my redemption bottle behavior. The irony of giving away $5 to $15 worth of bottles belonging to WPAA-TV to random people as I sought discounts and gifts in these amounts did not escape me I am the girl who walked miles along the roadsides of my hometown for bottles discarded from car windows for the $.02 and the America the Beautiful Act of 1965. The coincidental disappearance of the dumpster diver was a relief much like the relief of being able to turn over, with basic instructions for daily posting of Freeman images, the Freeman kindness tasks to Kay.
Postscript: Coming Clean
As Freeman gained more friends, the ability to be Freeman became an awkward exercise in value testing for reasons beyond the sheer volume of interactions. I had been in need of a social media respite for months. I was feeling compelled to silently middle-finger the world more and more. This was about the time of the 2016 election.
Being Freeman, as the ambassador, consists of hundreds of virtual encounters with people The person behind the brand never met. The majority of worldview and values expressed on social media by Freeman Friends do not align with mine Or others behind the brand. Being Freeman with awareness versus rote rules of engagement is what I imagine hitting one's head against a wall feels like. There is raw, naked awareness of the contact as the pain above one's eyes makes cracks in your heart. The throbbing lingers as you push through to the next virtual encounter. Maybe a smile is on the horizon. Maybe congratulations to offer. Maybe a R.I.P., and taking a moment to pause for the life of a stranger. The micro-aggressions released into the world are the manifestation of the dystopia of our time That must not overshadow the intentions of the Freeman brand. The real person behind each encounter collects the particle dust of all of them. Some days are sunshine and others make you want to shake your middle finger at the world or at least at a few people in it I cannot be more honest than that.
A data phishing meme appeared on Facebook which promised Meyers-Briggs insight into values and priorities based on social media behavior It's easier to hack people than computers and I was about to prove it.  The questions did not appear to be risking my passwords It was more of the exploitation variety. I decided to use this social engineering tactic for some research of my own. Both Freeman and Susan would submit responses. I envisioned this as proof that the brand and the person were indeed engaging in the world differently That was the proof I needed.
My virtual social interactions as Freeman were confirmed as more upbeat and affirming than mine Bubbly, bubbly, bubbly. What a relief it is. I was succeeding externally with the dichotomy. Internally, not so much.
It turns out there is something about getting to know strangers, even from behind a persona, that eeks out humanity. Kay could not resist adding her own kind words or worldview to her acts as Freeman. In six months she was exhausted, and made 'my medical condition' excuses to indirectly quit. I returned to the daily task with a sense of renewal and some insight into scoping out future Freeman ambassadors. The time on task needed to be limited. The images did not require additional text. Humanizing with a name would be enough. Engaging more with individuals already confirmed as friends with mission awareness was needed. Future humans behind the brand needed to be better than I at exuding kindness in person and less entrenched in a political or moral worldview. I also knew I needed a human who would feel connected to the role, and if so, do things that I might not otherwise do. And so it was, the next Freeman immediately added value by asking me if I were aware that I referred to Freeman as 'he.'