I thought about writing a memoir three time. The first, Kindle Next, would have focused on my introduction to advocacy work predominantly during my VISTA enlistment. Rich In Mercy was to be about a life derailed by mental illness and a spiritual rescue. Unfortunately, that untold story was more like a tested hypothesis that does not prove to be well grounded in reality. The in progress book project, Citizen Media Maven|The Life has three sections: Discovery, Bloom and Maven. This time the writing effort has a bigger reason for being. I want to kindle curiosity in the reader about citizen media storytelling.
If publishing comes to pass, proceeds will go to the Endowment Fund Freeman's Purse. The investments are managed by the Community Foundation of Greater New Haven and overseen by the WPAA-TV Board.
The realization that I may not be able to be a volunteer forever became all too real at the end of 2020. However, I hope to work alongside this investment for as long as life allows.
Volunteer Executive Director and Covid-19 Survivor
Susan Adele Huizenga
Excerpt from the Preface of Citizen Media Maven|The Life
A True Tale, According to Me
To be clear, citizen media is not the sanitized read found in your local newspaper, if your community is lucky enough to still have one. Nor is it the crafted, reserved analysis or slightly outside the mainstream performances of public television. Citizen media is quirky, replete with passionate people, and often compelling in its authenticity and 'won't you be my neighbor' optimism. It is the stories drafted in press releases every day but not put into the hands of journalists to dissects its worthiness, prioritizes its facts and add quotes they cultivate on a deadline to boost its newsworthiness.
My community still has a local newspaper. The Record-Journal, a one hundred fifty plus year old institution, recently rebranded with a mission to be 'the primary catalyst that motivates people to contribute to the intellectual, civic and economic vitality of our communities.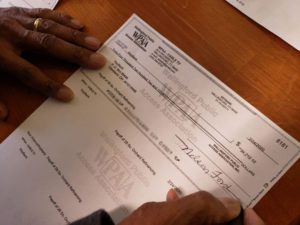 If you have had occasion to submit a press release to a newspaper, this press release remastered story may ring some bells.
Our release was written by a college intern from a highly touted journalism program in the area so we did not expect a major rewrite for publication. An R-J intern, from a different college, was assigned to our story by the newspaper. A photograph of a pen in an elderly hand was sent to the Record-Journal. It accompanied a press release entitled Ten-Year Journey Ends With the Signing of a Check, subtitled, WPAA-TV Reaches Major Milestone.
The story made the print version of the paper, but not quite the way the community it was intended to represent had hoped. The article Public Access Station Pays Off Building Mortgage Early focused awkwardly on the pay-off and what it might mean for the future. It was published with an image the newspaper had on-file, an out of date picture of the building with incorrect branding in the signage.
The published article began "WPAA-TV paid off its building two years early late last month," This was in sharp contrast to the opening statement in the release: "This week marks the end of a ten-year journey for WPAA-TV that wouldn't have been possible without community support. On Feb. 24, Nelson Ford, the oldest volunteer and former board member, excitedly signed the final check to pay off the building located at 28 So Orchard Street."
And so it is that every story can have many ways to be told. I can only attest that this collection of intertwining tales is true, according to me.